Equity In Art
Sculpting Joy And Making Statements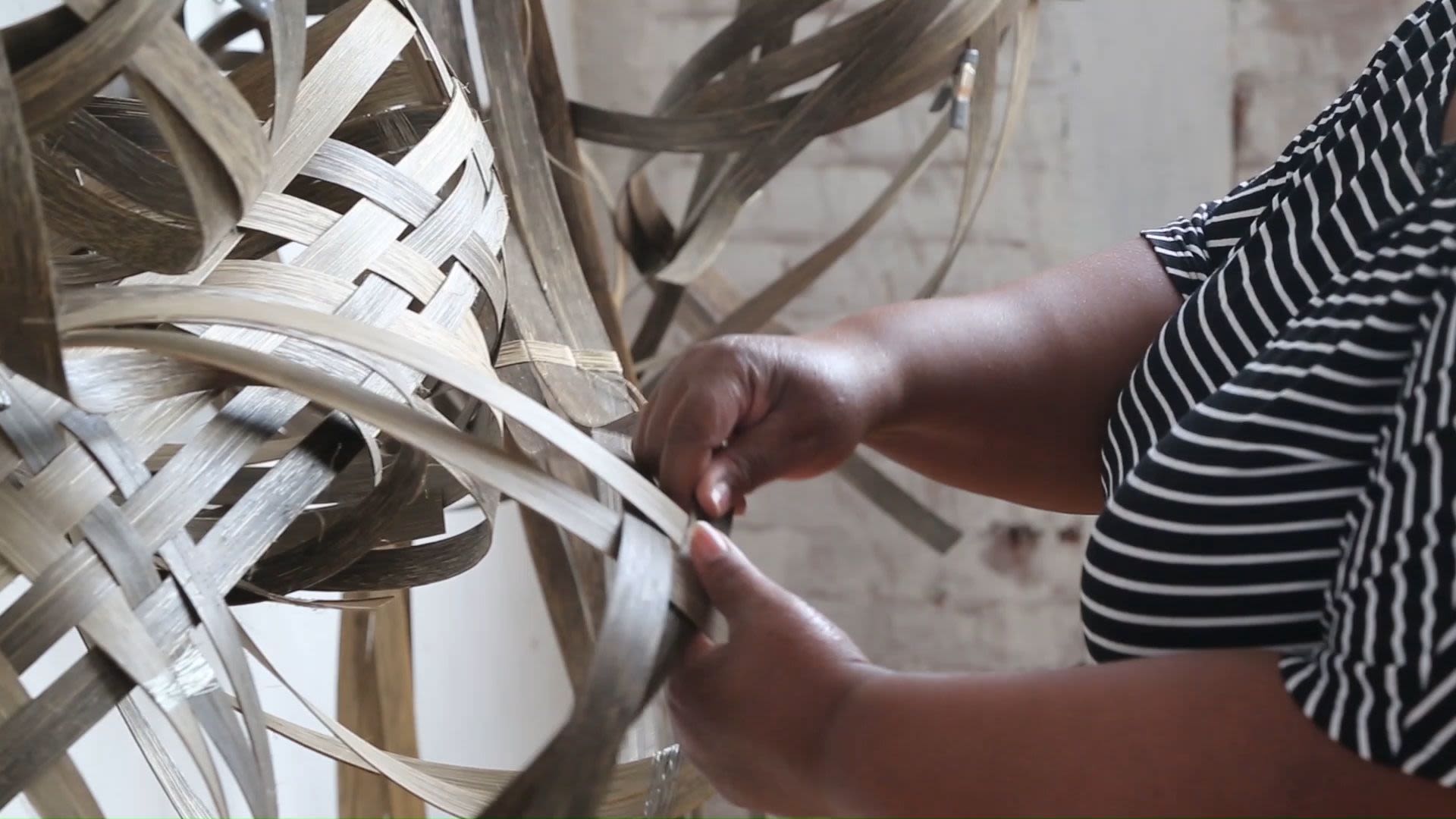 Editor's note: Recognizing artists of color face barriers in the art world, the Equity In Art series seeks to amplify the work of minority artists. Through this series, ideastream will profile artists of various genres living and working in Northeast Ohio. Look for a new profile each Wednesday in September at arts.ideastream.org.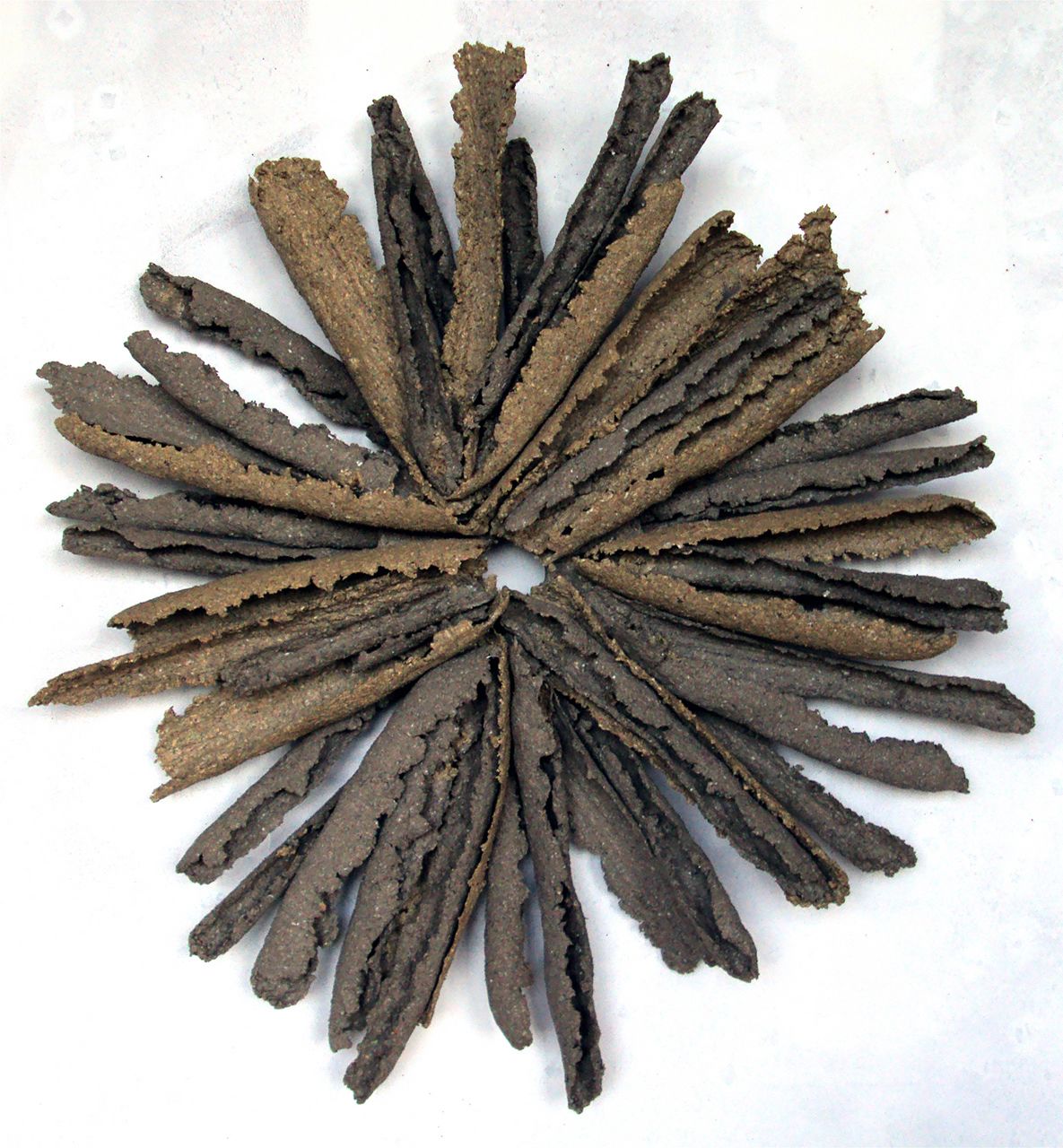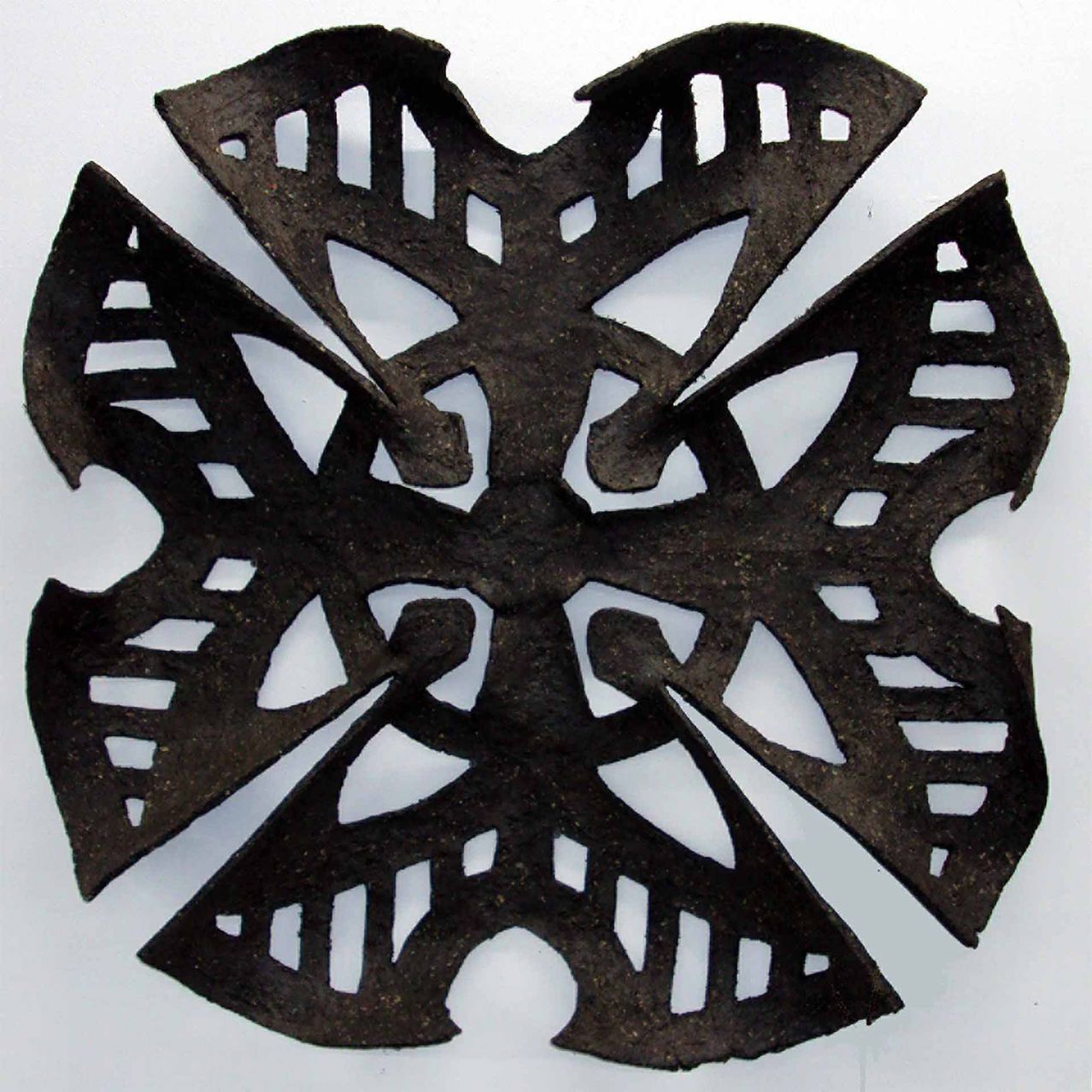 Natural Creations
Charmaine Spencer has always seen value in dirt.
As a kid, dirt was a main ingredient for making mud pies, a cherished pastime for Spencer while growing up in Ann Arbor, Michigan. As a sculptor, it's one of the natural materials she turns to in her work.
Spencer also utilizes driftwood, shredded paper, hair and sand to put "value back into things people see as valueless," she said.
Her large-scale sculptures hang in private and commercial settings, including Cleveland's downtown Hilton.
Her earthy works also reflect upon cultural traditions. For instance, "Arms" resembles a European coat of arms, symbolic of identity and status. The sculpture is made of compost and pulp and vulnerable to a change in environment.
"Everything in it is biodegradable, so it will actually go back into the earth if you put it outside," Spencer said.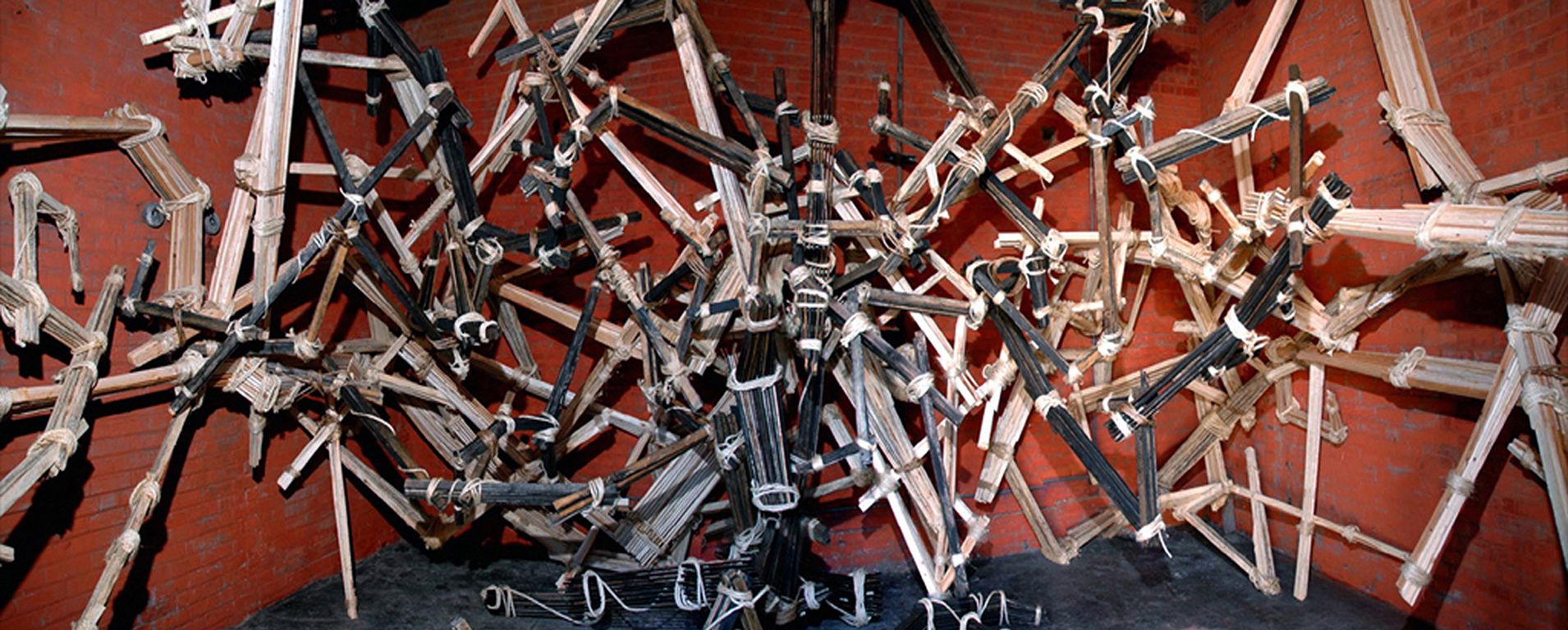 Charmaine Spencer created "Revival" for her Bachelor of Fine Arts degree at Cleveland Institute of Art. She stained the walls red and the floors black to contrast the materials used in the piece. [Charmaine Spencer]
Charmaine Spencer created "Revival" for her Bachelor of Fine Arts degree at Cleveland Institute of Art. She stained the walls red and the floors black to contrast the materials used in the piece. [Charmaine Spencer]
Second Career
Roughly two decades ago, Spencer decided one day to visit the Cleveland Institute of Art (CIA) to learn more about the school. At the time, she was working in home-health care and ready for a change.
"While I was doing that, I wasn't doing any art. I was, like, pretty unhappy. And I was really unhappy about seeing how the system treats sick people. So that was making me worse," she said.
Spencer went on to study sculpture at CIA, receiving a bachelor's degree in fine arts. Her work has been exhibited around the city, including at Cleveland State University, SPACES Gallery and the Sculpture Center. Still Point Gallery in Cleveland Heights also sells her work.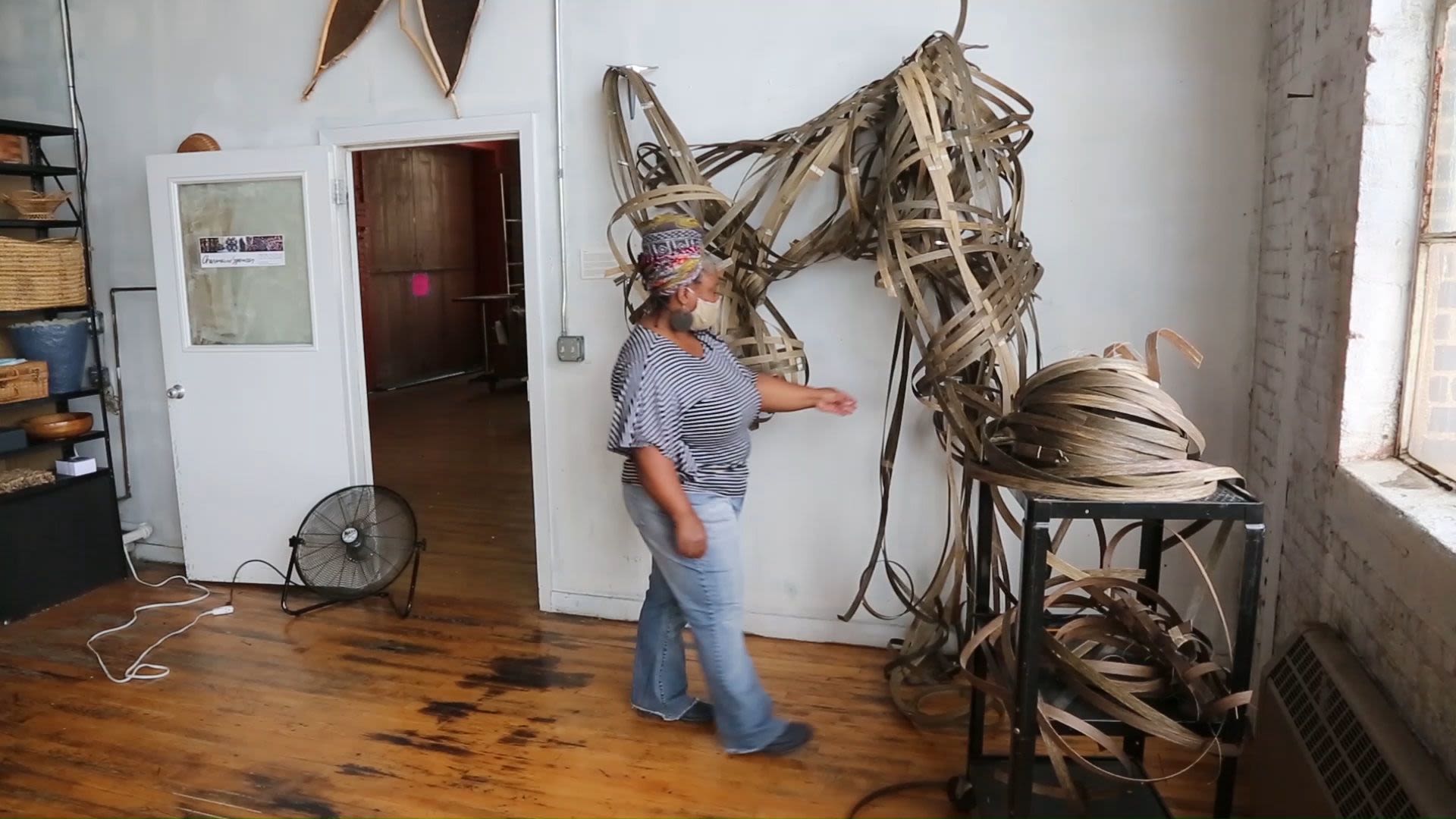 She creates in a studio among other area artists on the third floor of Cleveland's 78th Street Studios. The space is large enough to display several of her sculptures, including a work-in-progress attached to the wall. On a recent morning, Spencer weaved together long pieces of dried, reed grass typically used in baskets, tying off sections with hemp thread.
While working on the piece, she said her focus remains on what she's doing in the moment.
Due to the pandemic, not as many people are visiting her studio. It's an inviting place, with lots of natural light coming through windows and illuminating both her art on display and a sitting area framed with lush plants.
While 78th Street Studios has been hosting small events, those are limited to a couple hundred people compared to the thousands that have traditionally attended art walks on the third Friday of the month.
"Trying to maintain being an artist, it is very hard right now," she said.
In addition to making art, Spencer also is a job coach, but work has been tough during the pandemic.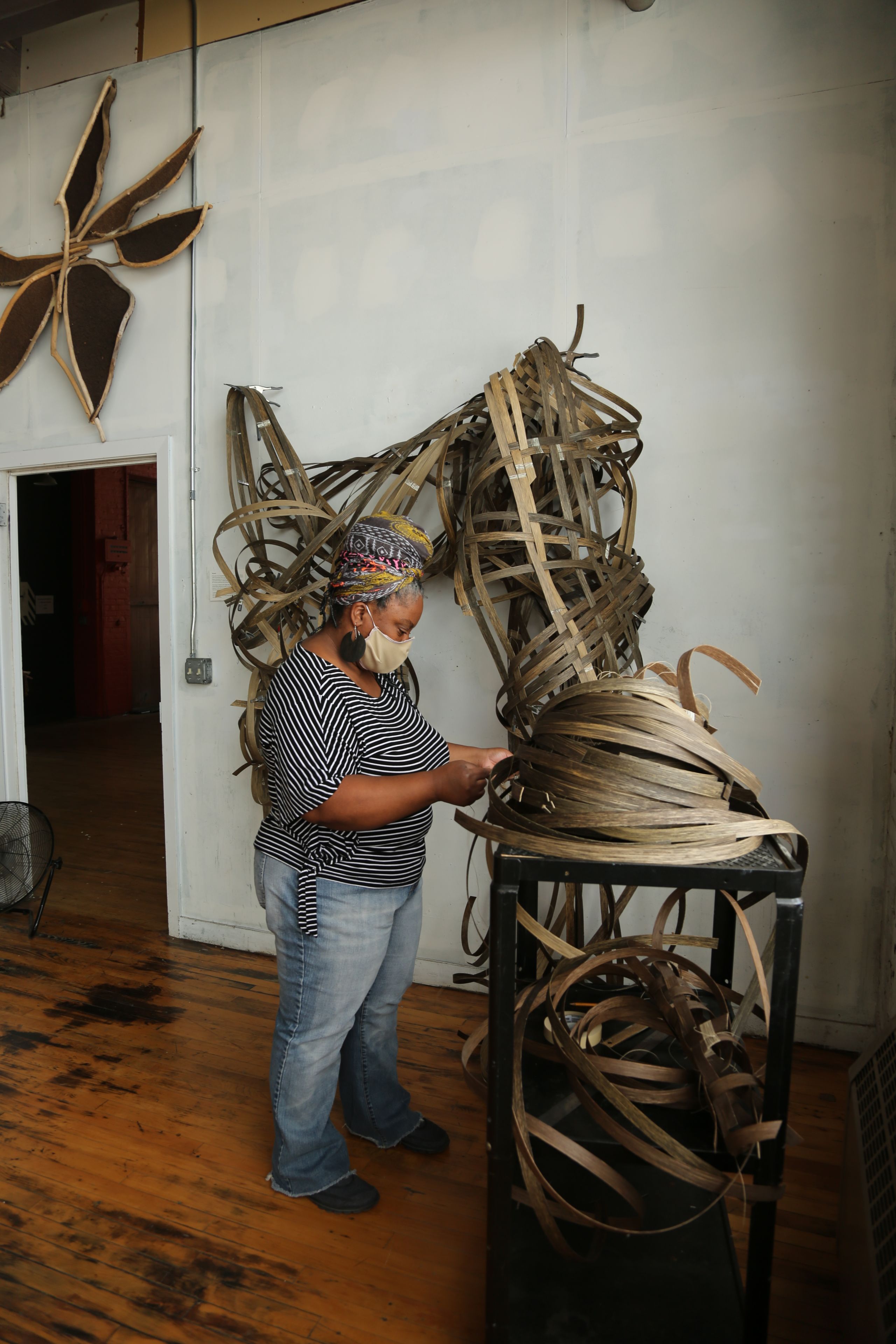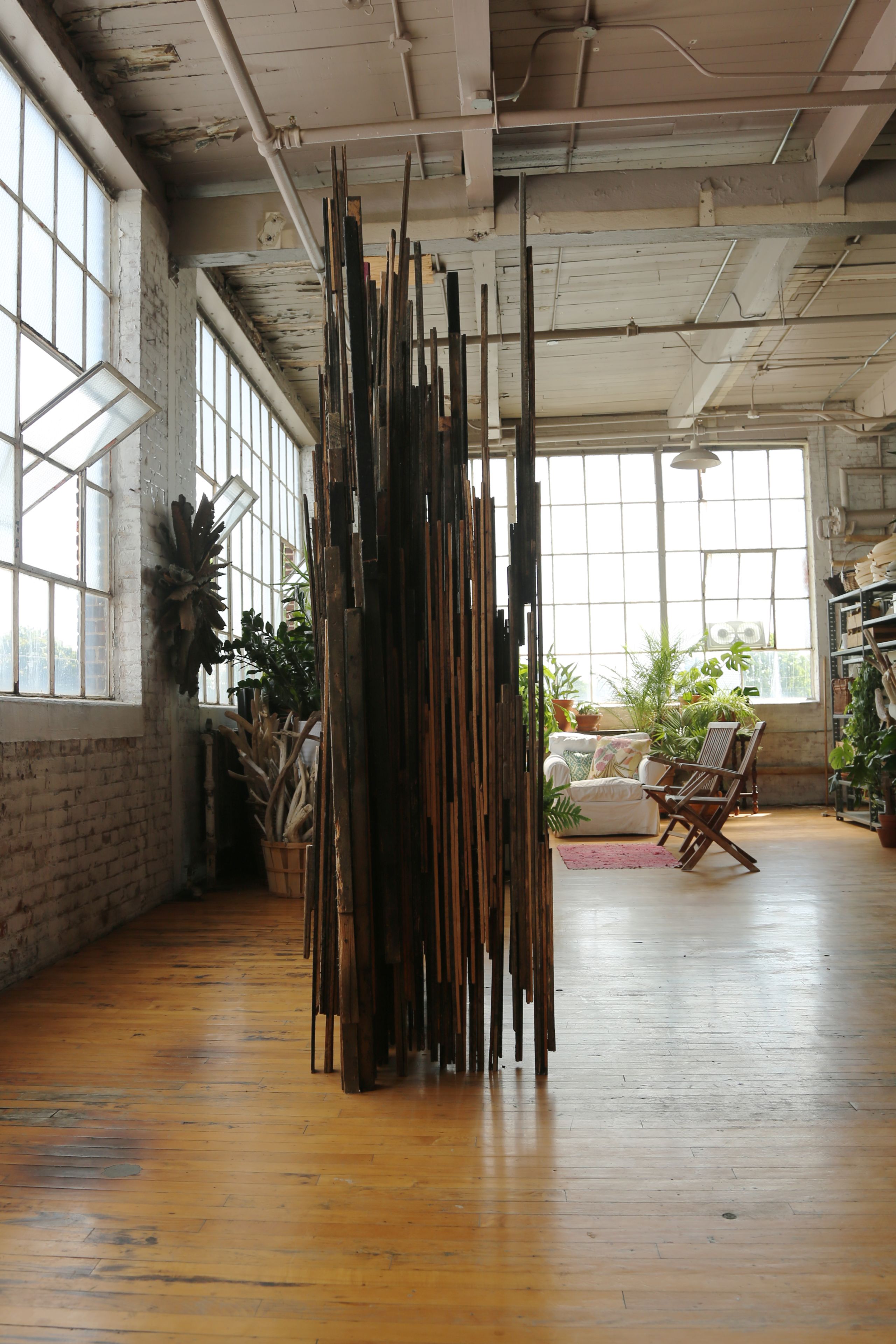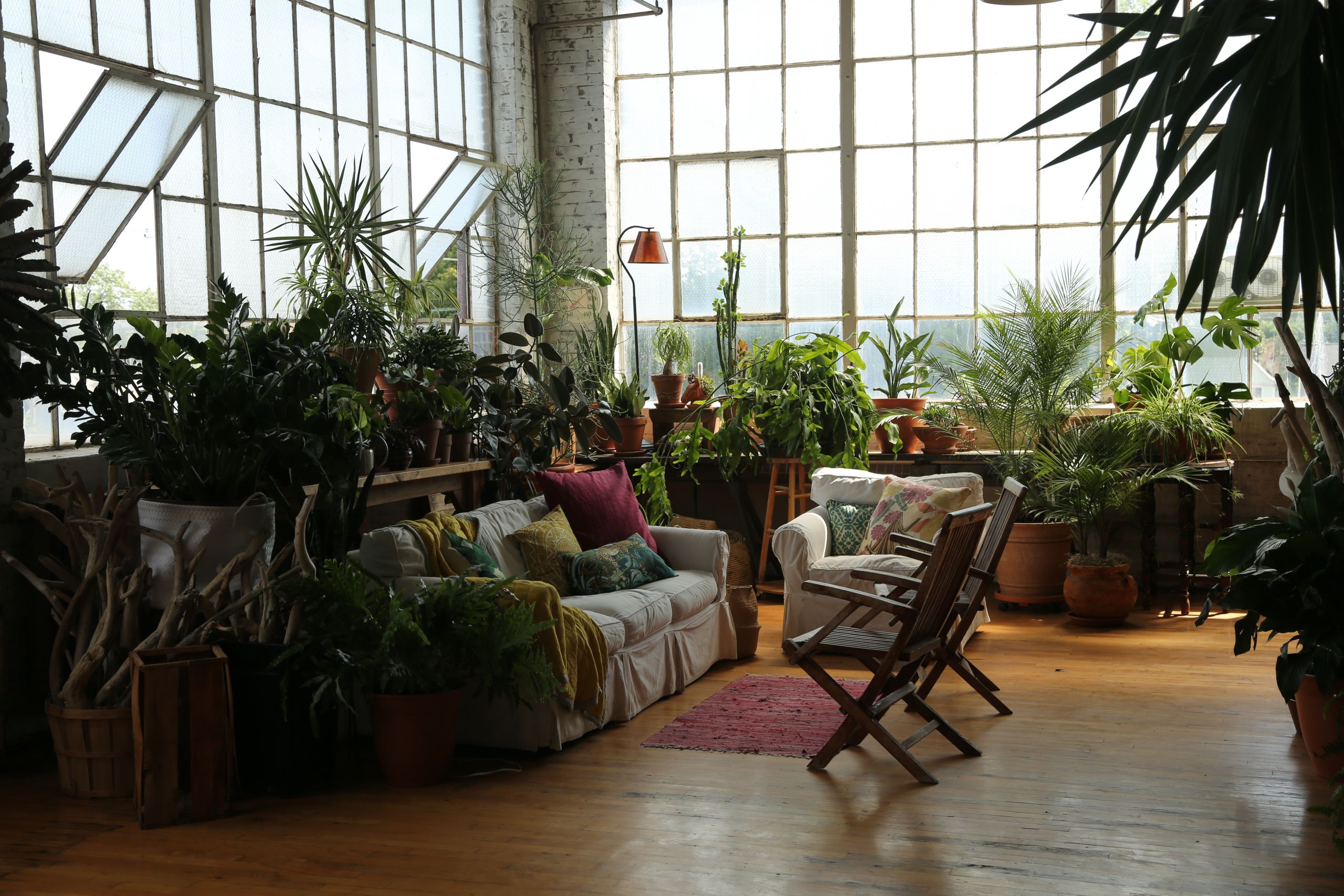 Two Kinds of Art
In describing her art, Spencer said her sculpture expresses her joy and love for humanity while her social justice pieces express anger. She had stopped doing the latter for a while, because she said she felt it wasn't healthy to be caught up in those feelings. Following the death of George Floyd under the knee of a Minneapolis police officer earlier this year, she renewed her focus on art examining social issues.
"I'm going to feel that way anyway, so I'm making a lot more of my controversial kind of stuff," she said, adding that many people haven't seen the art she creates to make social statements.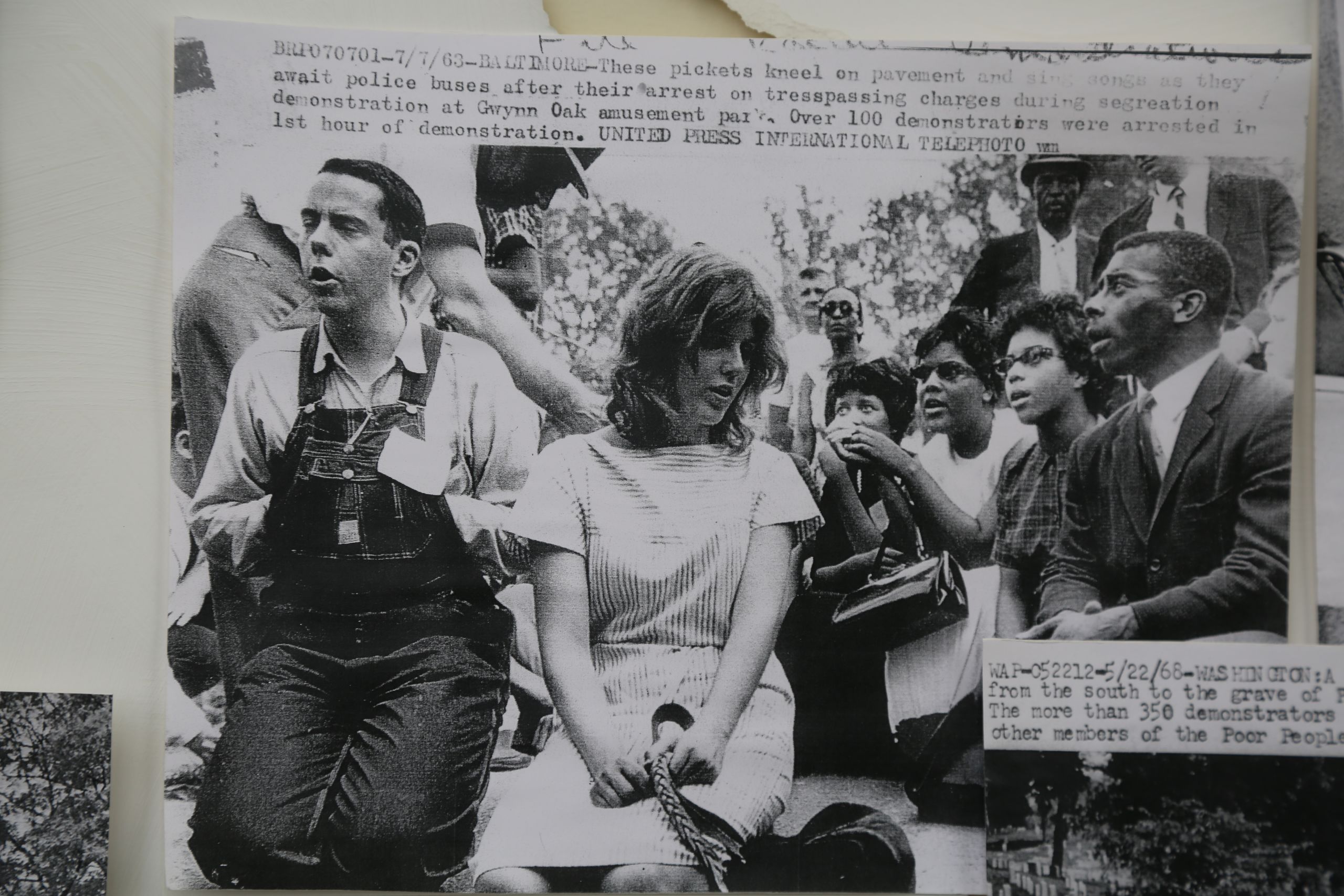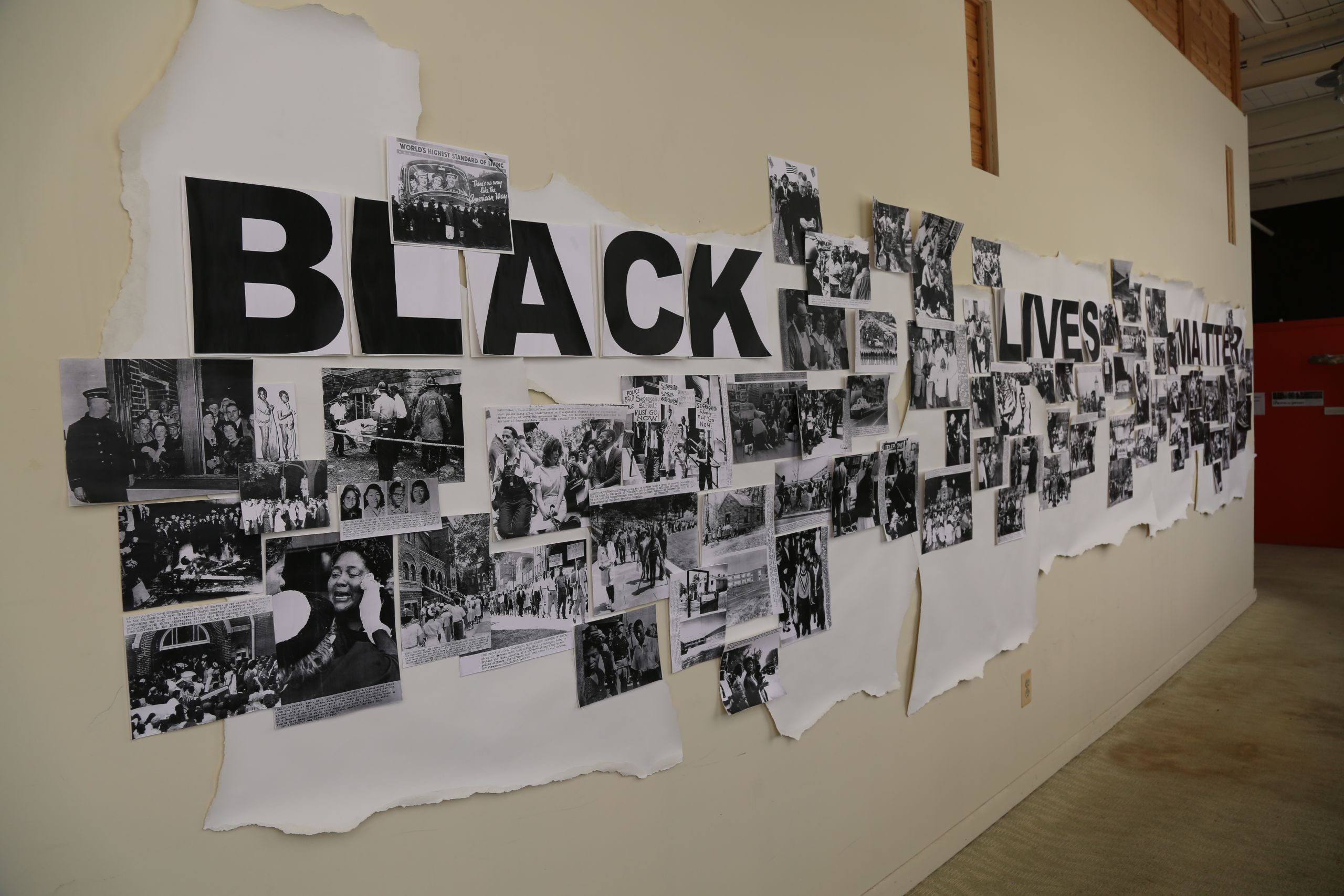 A mural of images on the wall outside of Charmaine Spencer's studio in Cleveland. [Carrie Wise / ideastream]
A mural of images on the wall outside of Charmaine Spencer's studio in Cleveland. [Carrie Wise / ideastream]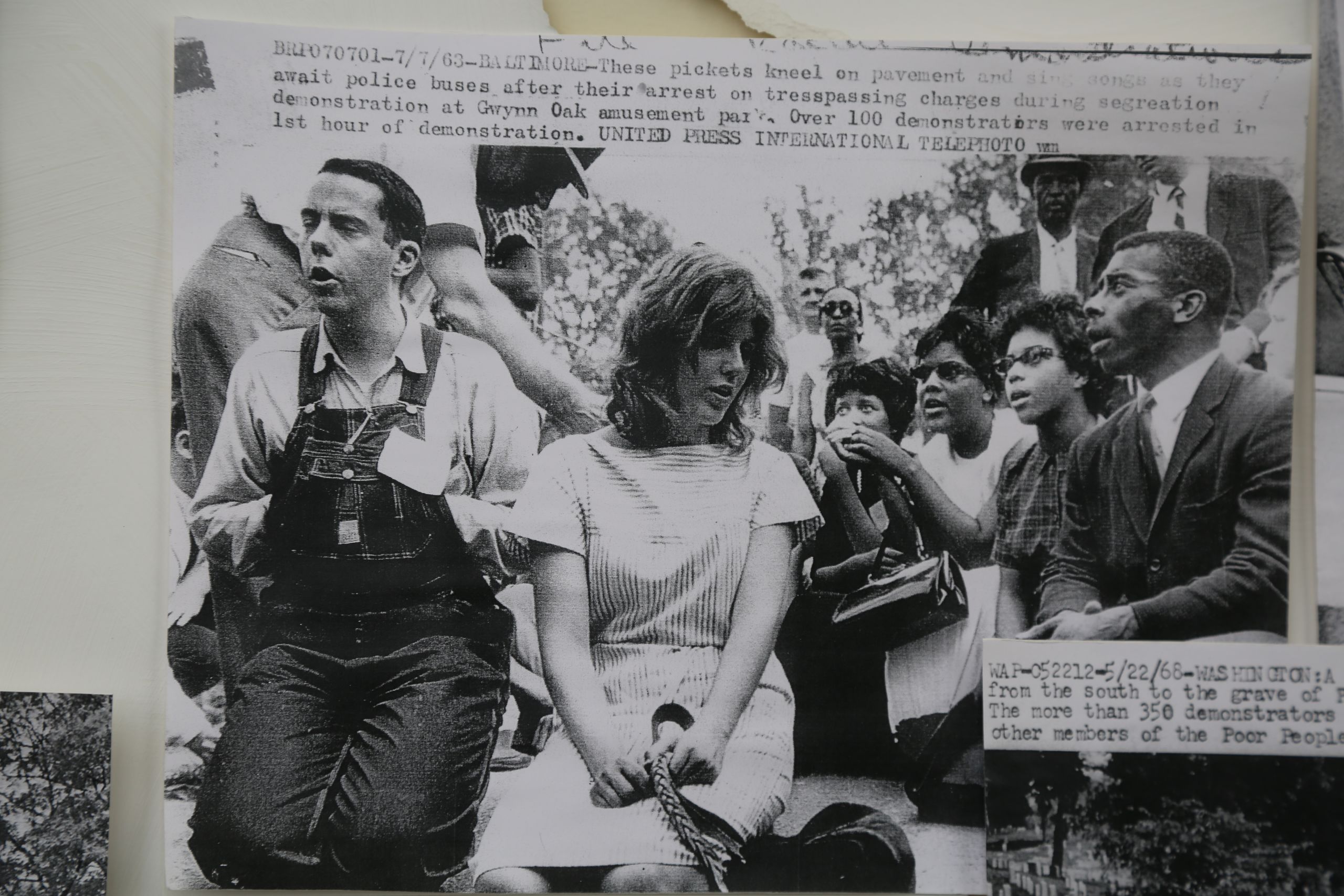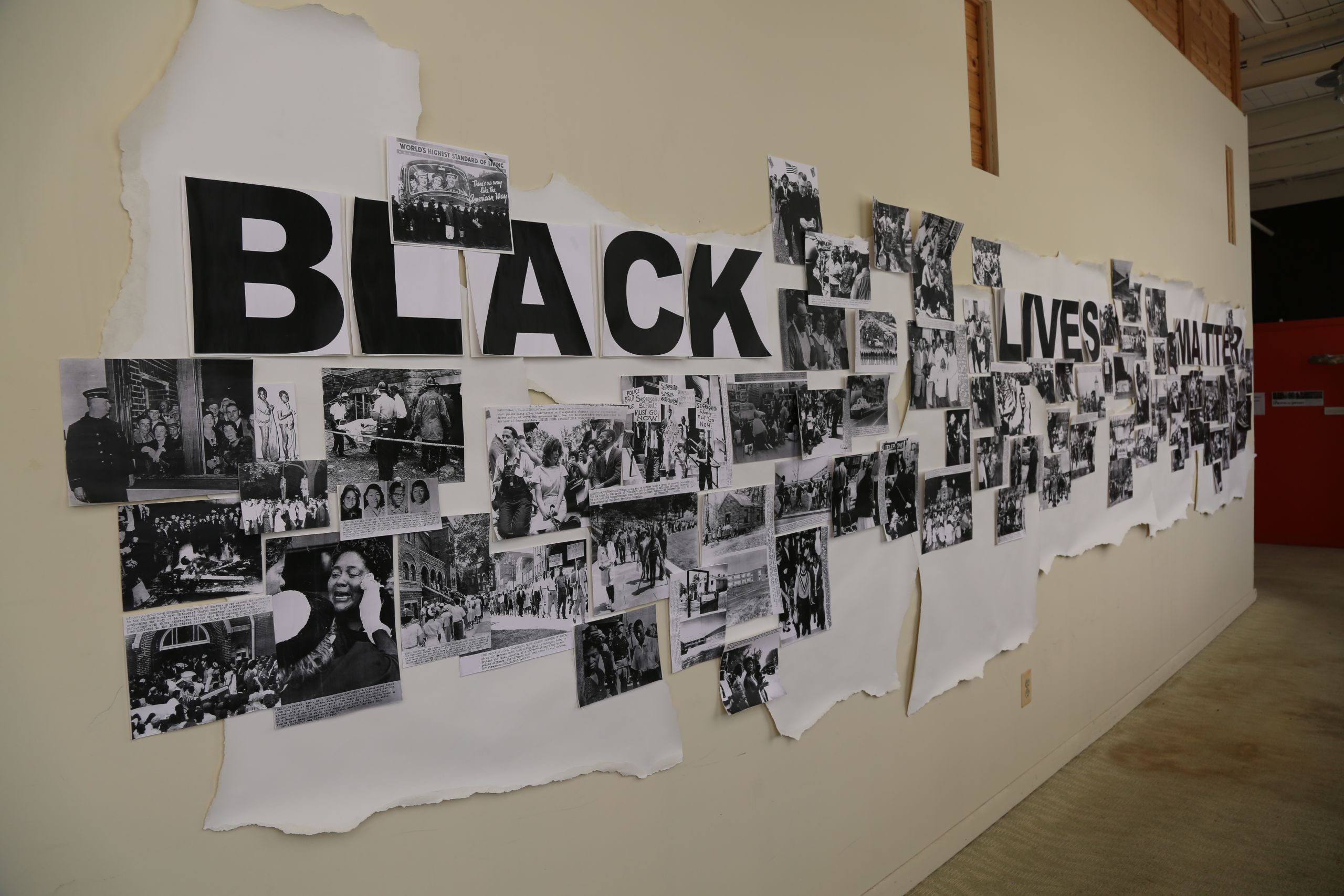 A mural of images on the wall outside of Charmaine Spencer's studio in Cleveland. [Carrie Wise / ideastream]
A mural of images on the wall outside of Charmaine Spencer's studio in Cleveland. [Carrie Wise / ideastream]
A piece Spencer created several years ago while a student at CIA didn't sit well with someone.
She had decorated a Christmas tree with ornaments made to represent Black people who died by lynching, and the tree was removed from a hallway outside of a prior studio space at the former Hodge arts complex in Cleveland. Spencer said she later found it broken in the basement.
"They took it upon themselves to get rid of it," she said.
While she realizes some might be unable to look at trauma in art, she doesn't think artists or people should necessarily avoid such work. 
"If you can't see the images, and these images, they happen, they happen to people… and you are having a big problem looking at them, think of the people that have the problem, losing their loved ones," she said.
Another piece she did as a student reflected on death by lynching. The painting included a collage of images of white men "standing around proud they lynched somebody," she said.
To Spencer's surprise, she found "nobody was horrified."
Years later, she looked at a cutout of one of those images on a table in her studio featuring a man looking confident in his stance and expression and said she wants people to see that the safety of all people – not just Black people – is threatened when someone participates in taking a person's life.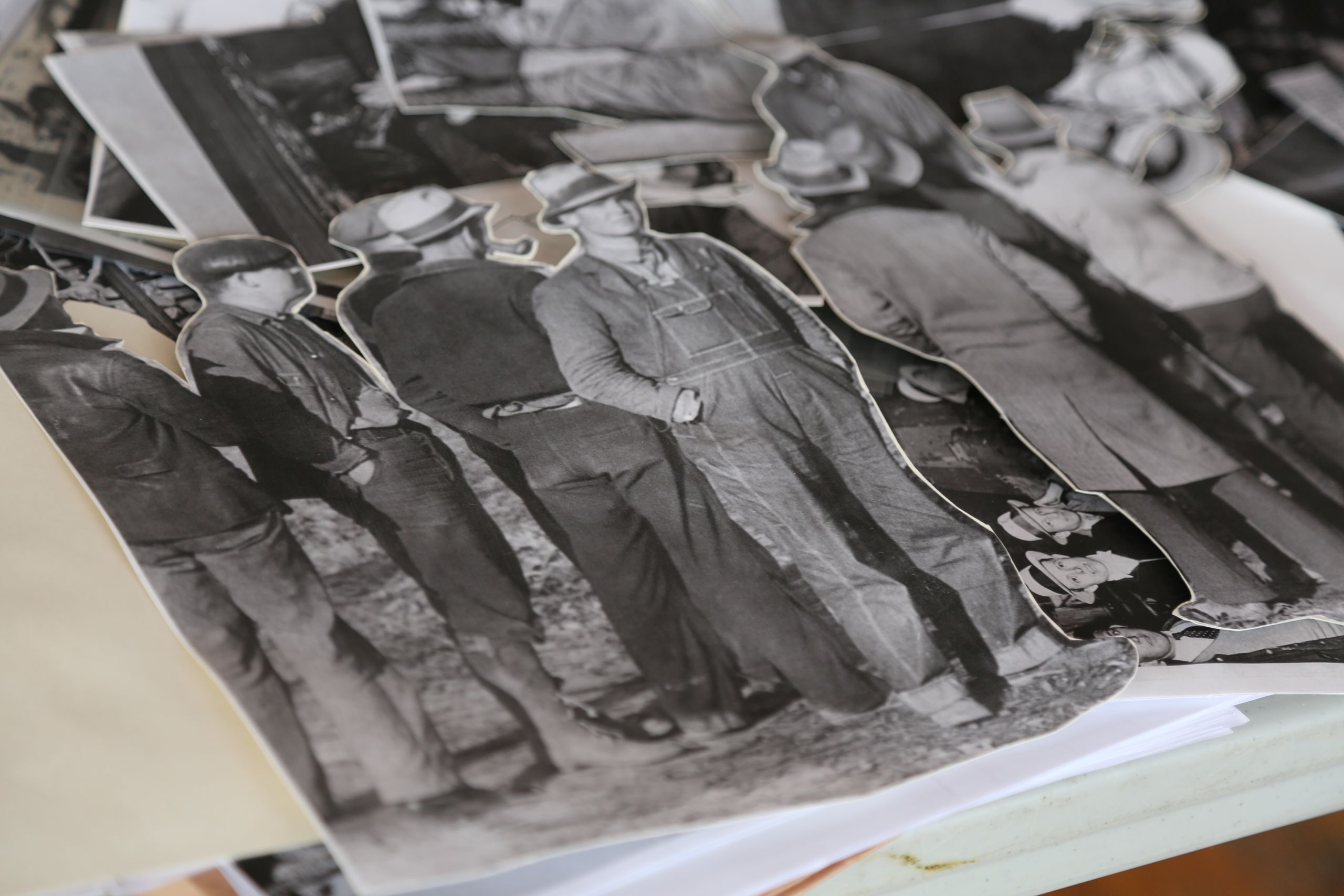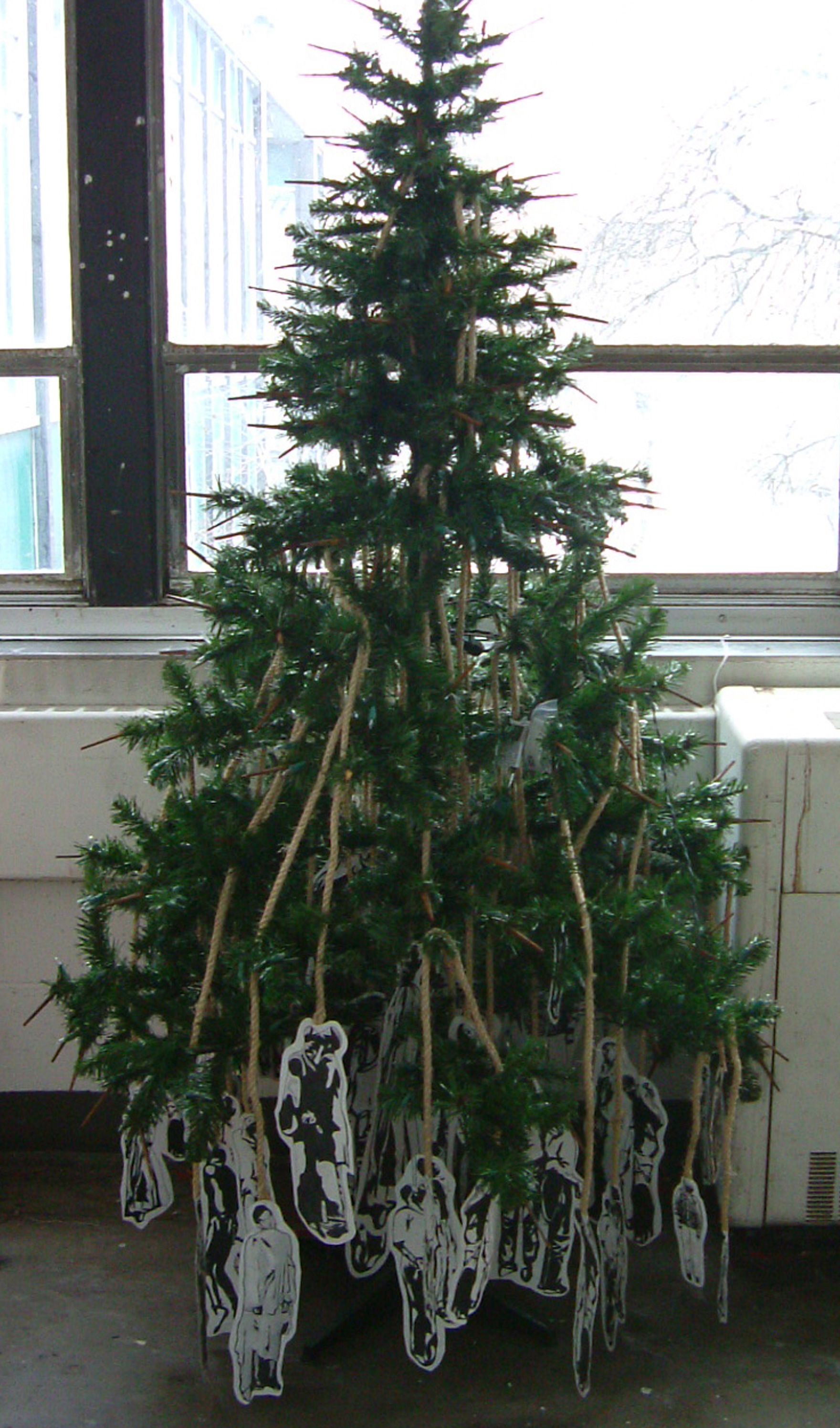 Unseen Barriers
Spencer said she dreamed of being an artist at a young age. But even in her own studio, she isn't necessarily recognized as one.
"I've had people come into my studio and walk up to my friend, who is white, and say, 'I love your studio,'" she said.
It's hard to know what opportunities were denied or judgments were made because she's Black, but she said she knows the discrimination happens.
"The only thing you can do, I think, is create your own system," she said. "And, yes, it's a very difficult thing to do."
Spencer said Cleveland could better support artists of color and grant makers should pay attention to the demographics of the city.
"They need to have some grants and fellowships and just support that goes directly to the artists and artists of color," she said. "A lot of people of color don't apply for grants because they already felt like, that it's not for them, it's not set up for them."
Spencer has received a few grants, including from the Ohio Arts Council in 2020 and 2016 and from Arts Cleveland (formerly Community Partnership for Arts and Culture) in 2009. Grants, fellowships and residencies help artists keep up their work, particularly those trying to create full time, as sales don't always happen in a consistent fashion, she said.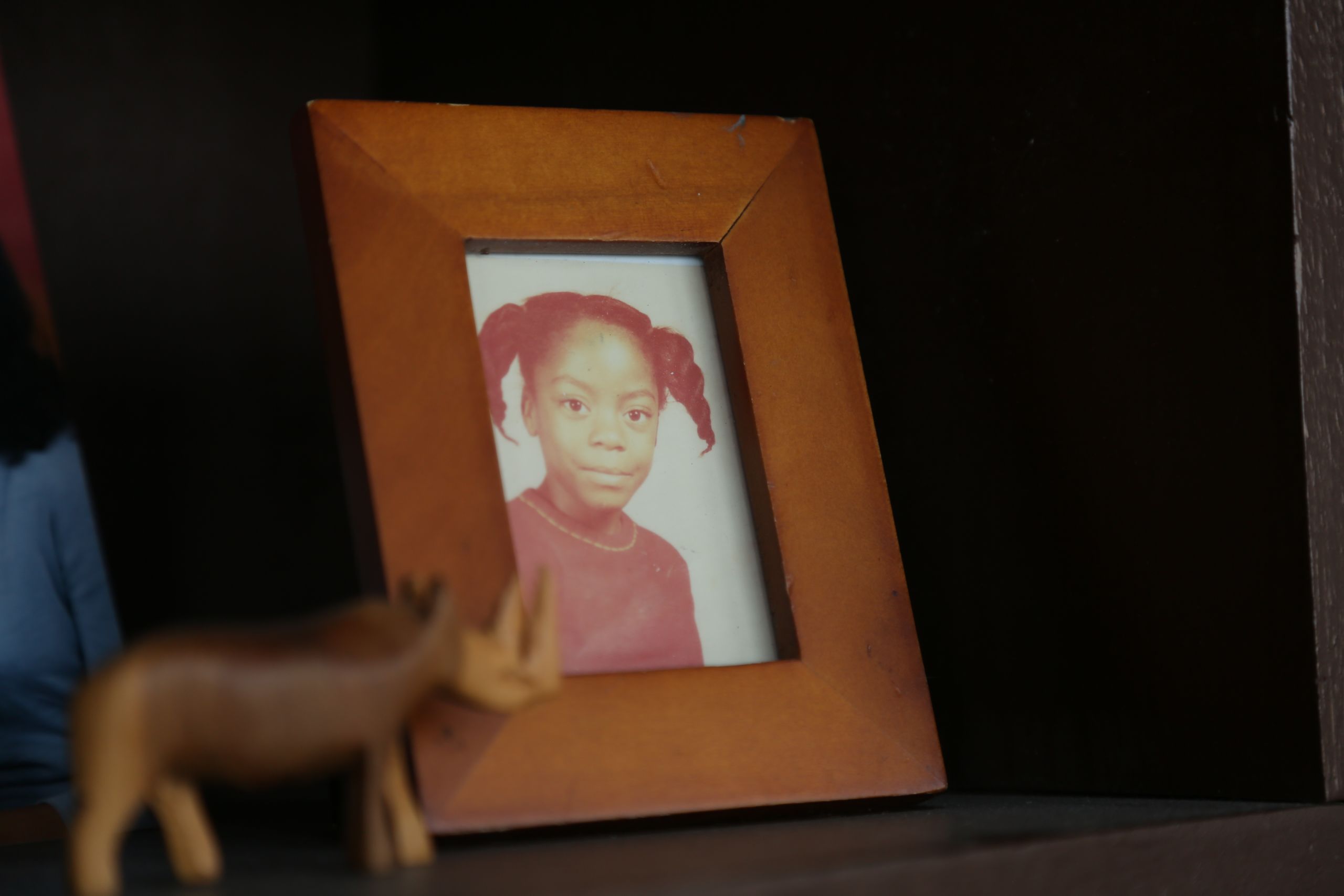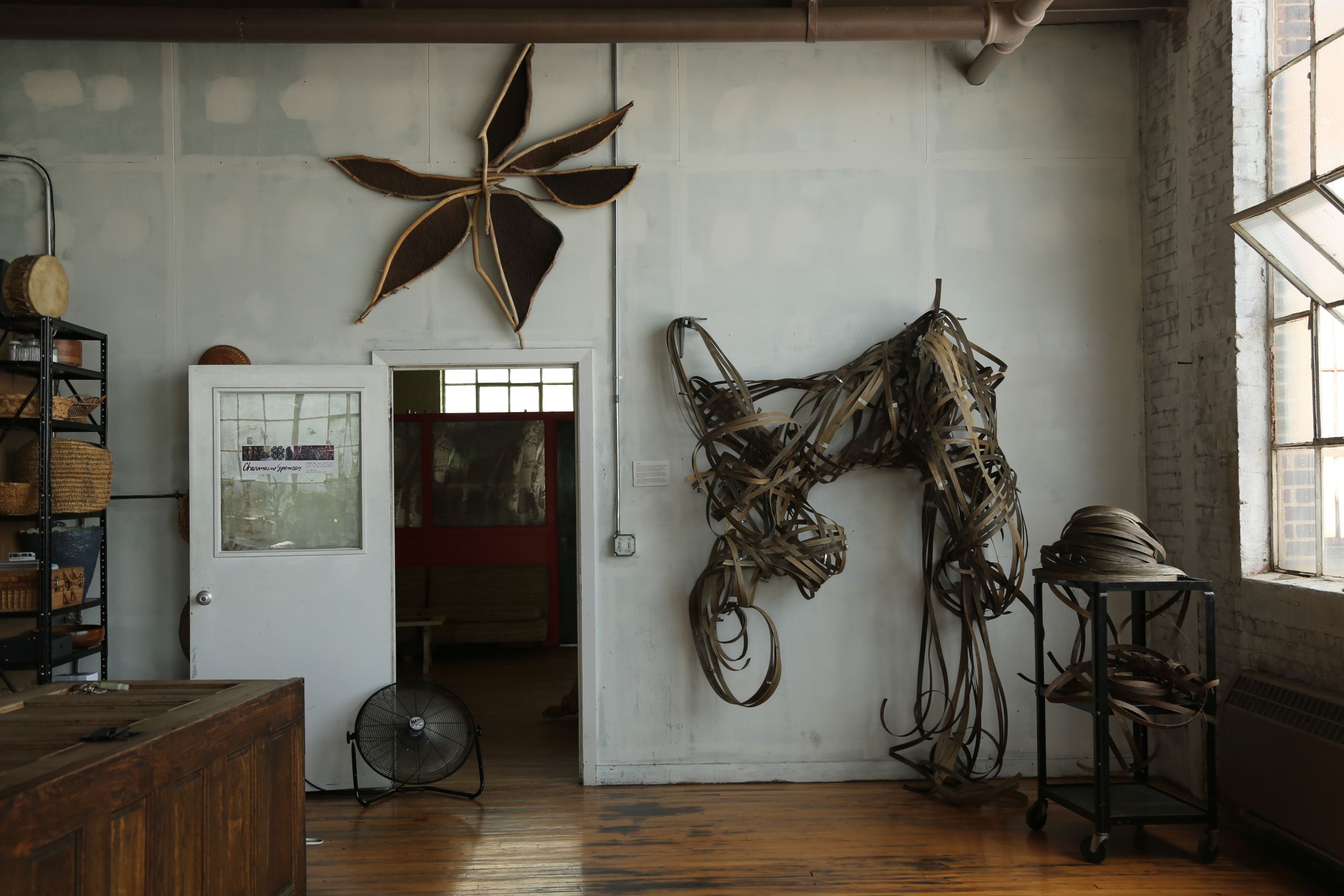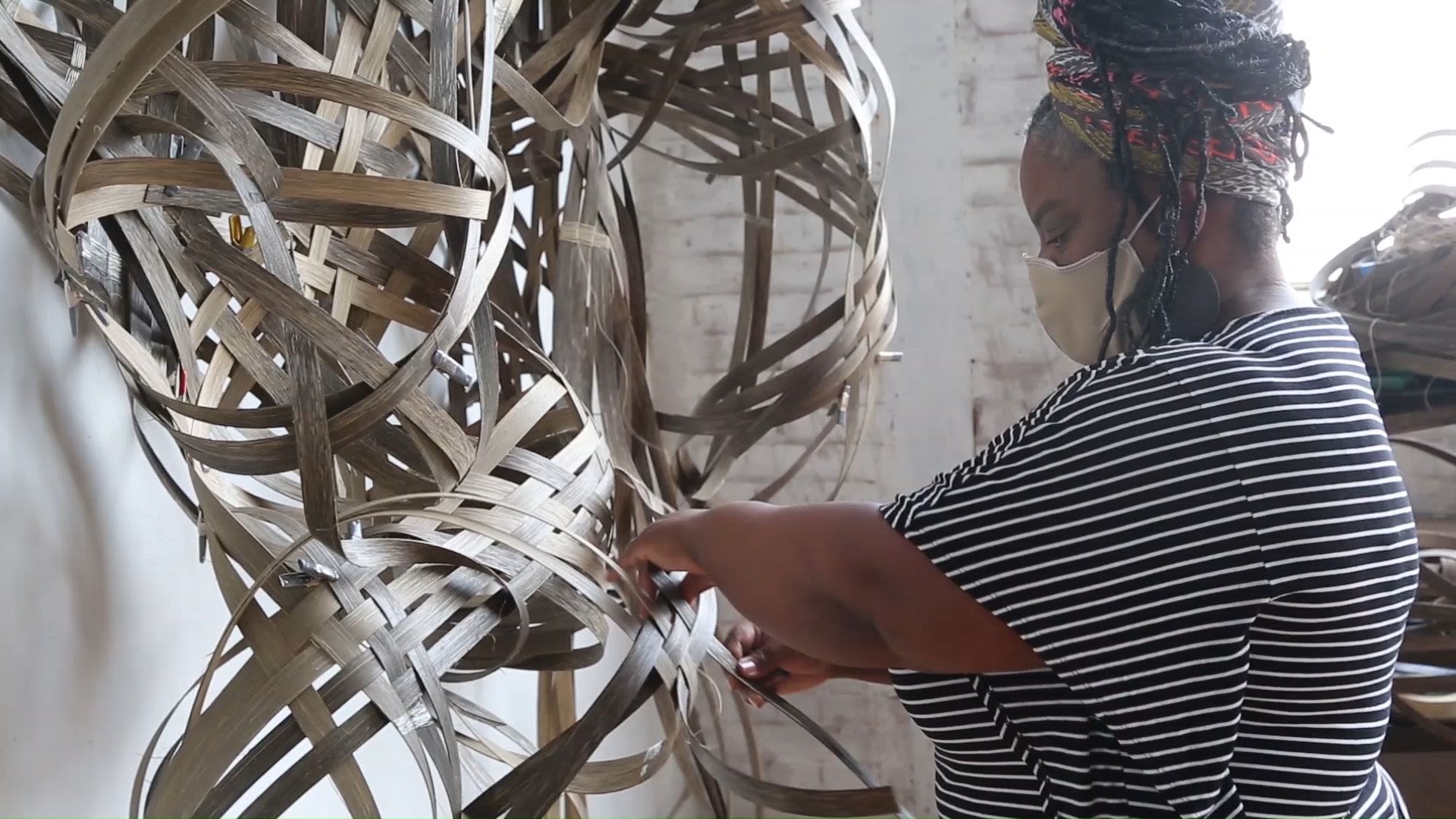 Cleveland makes its way into Spencer's sculpture in different ways. Sometimes it's as working material, such as driftwood from Lake Erie. Other times it's as inspiration, from the city's architecture to its history.
Spencer's approach to creating sculpture is to start working and see what emerges.
"I never do a model unless it's a commission," she said. "You have to figure out, like, 'OK, now I'm going to make this, like, structure stay in the middle of this.' So you figure out a way."
Spencer also stays open to changing the art. One wooden sculpture, for example, was going to be displayed like a labyrinth on the floor of an art show. During the setup for the exhibit, Spencer's sculpture was moved to the side to provide working space, and she said she ultimately decided she "liked it better that way." It became a "wall labyrinth."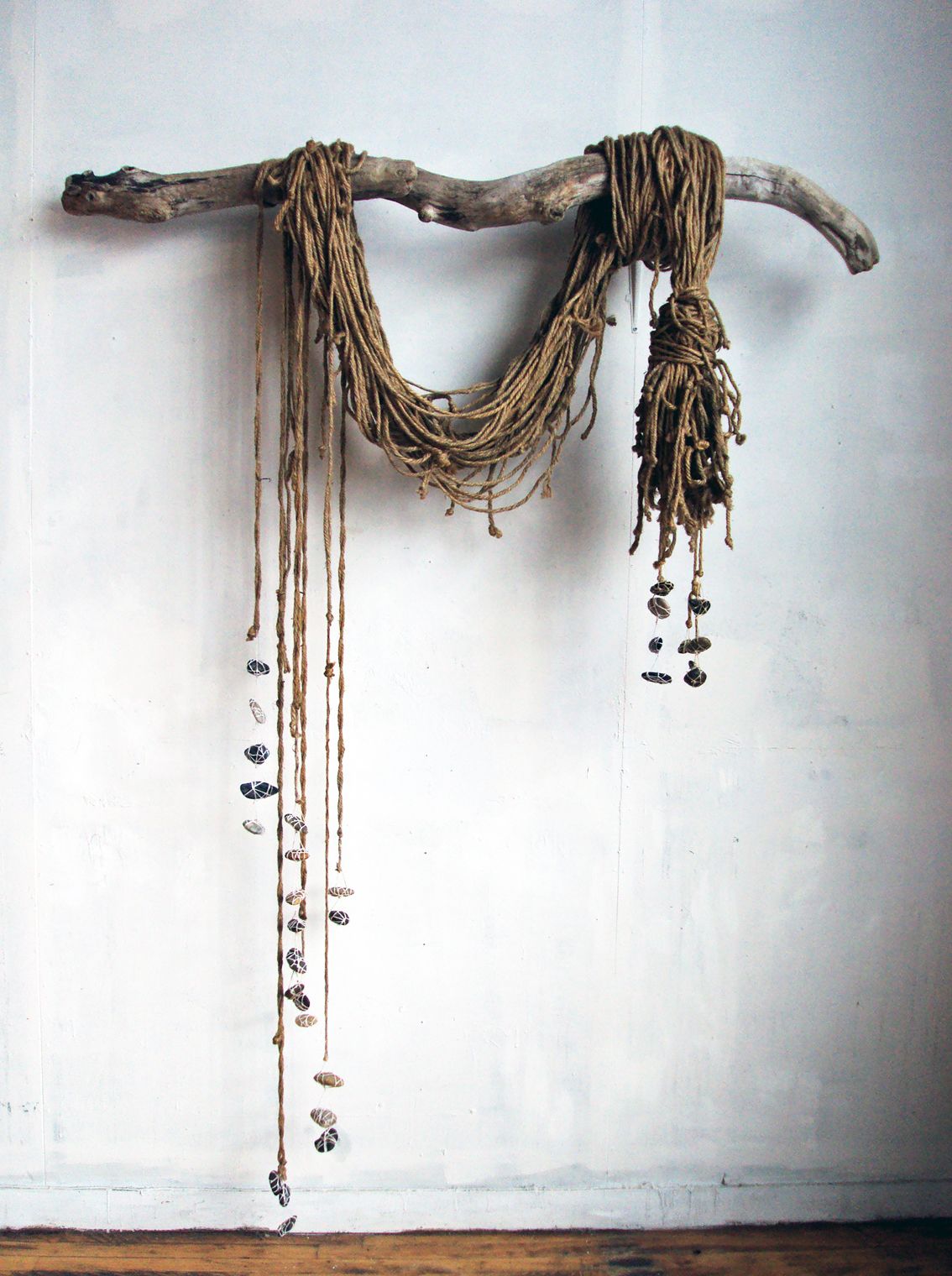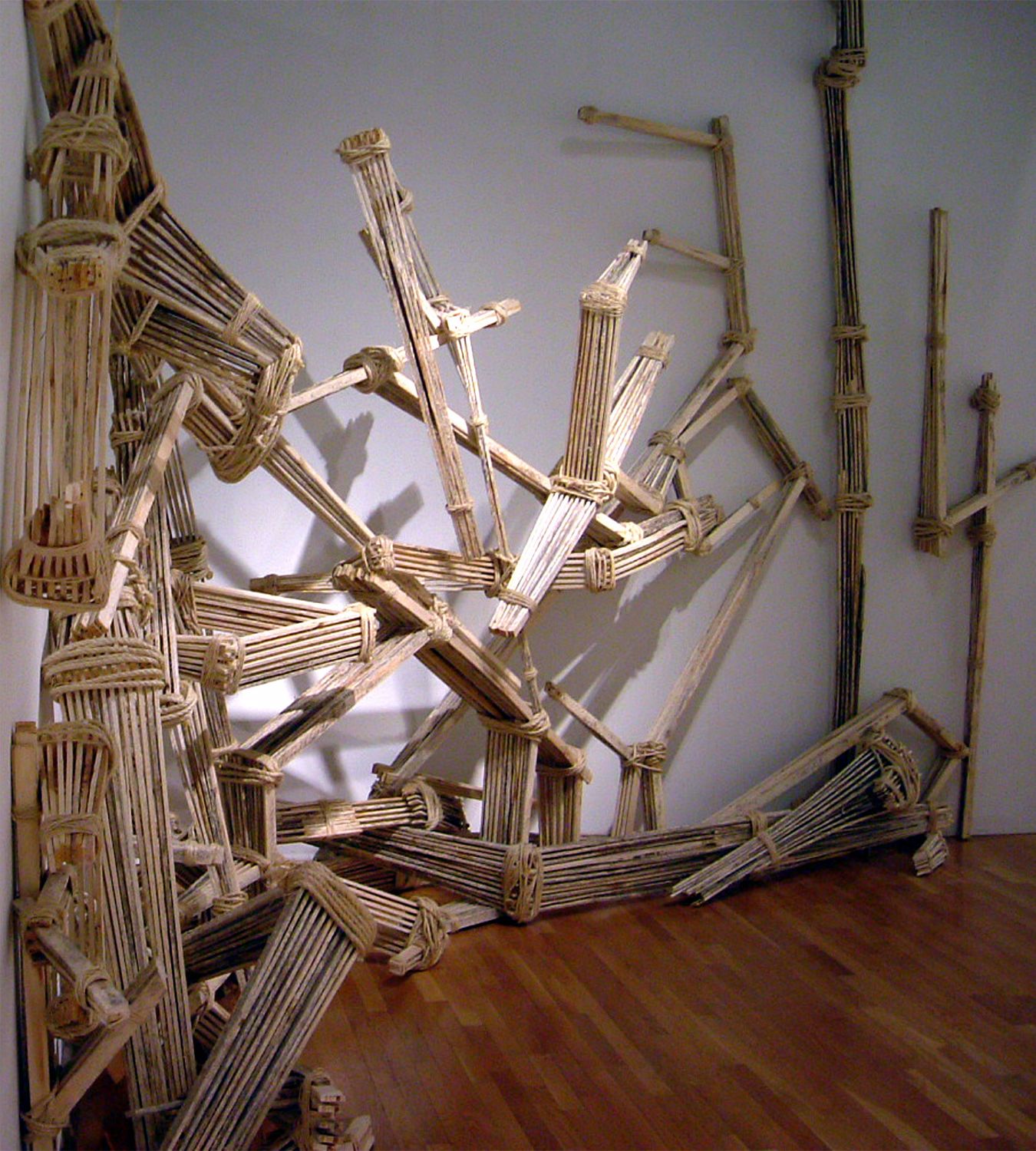 Ahead of the 2016 Republican convention, Spencer installed a large sculpture in the city's downtown Hilton.
"It was an engineering feat," said Geoff Baker of Still Point Gallery, who was on site for the installation.
"Harmonic" was constructed of woven reed grass tied together with stainless steel jewelry wire.
Spencer said she prefers people "look at a piece and have emotions and feelings first rather than reading my explanation."
The woven reeds accumulate and transfer energy, moving inexorably in cycles (circles), intersecting, unifying but always proceeding forward. Such is the history of Cleveland and the cycles that inspire the artist - the city's natural resources providing the early foundation for its industrial society, its cultural assets attracting population and capital, and its institutional and intellectual assets further sustaining the region's transition to a new economy and future. The sky, earth (urban landscape) and water (Lake Erie) are integrated into one unified work; their harmonic cycle a powerful statement for the city's capacity for renewal. – From the description of "Harmonic" on Spencer's website.
Spencer said she doesn't have a favorite piece, but she particularly enjoys the experience of creating.
"You lose yourself in the sculpture," she said. "Especially when you're finding out some things, like that the materials can do or you can do with the materials that you've not done before."