Human Trafficking in Northeast Ohio
A Modern Day Form of Slavery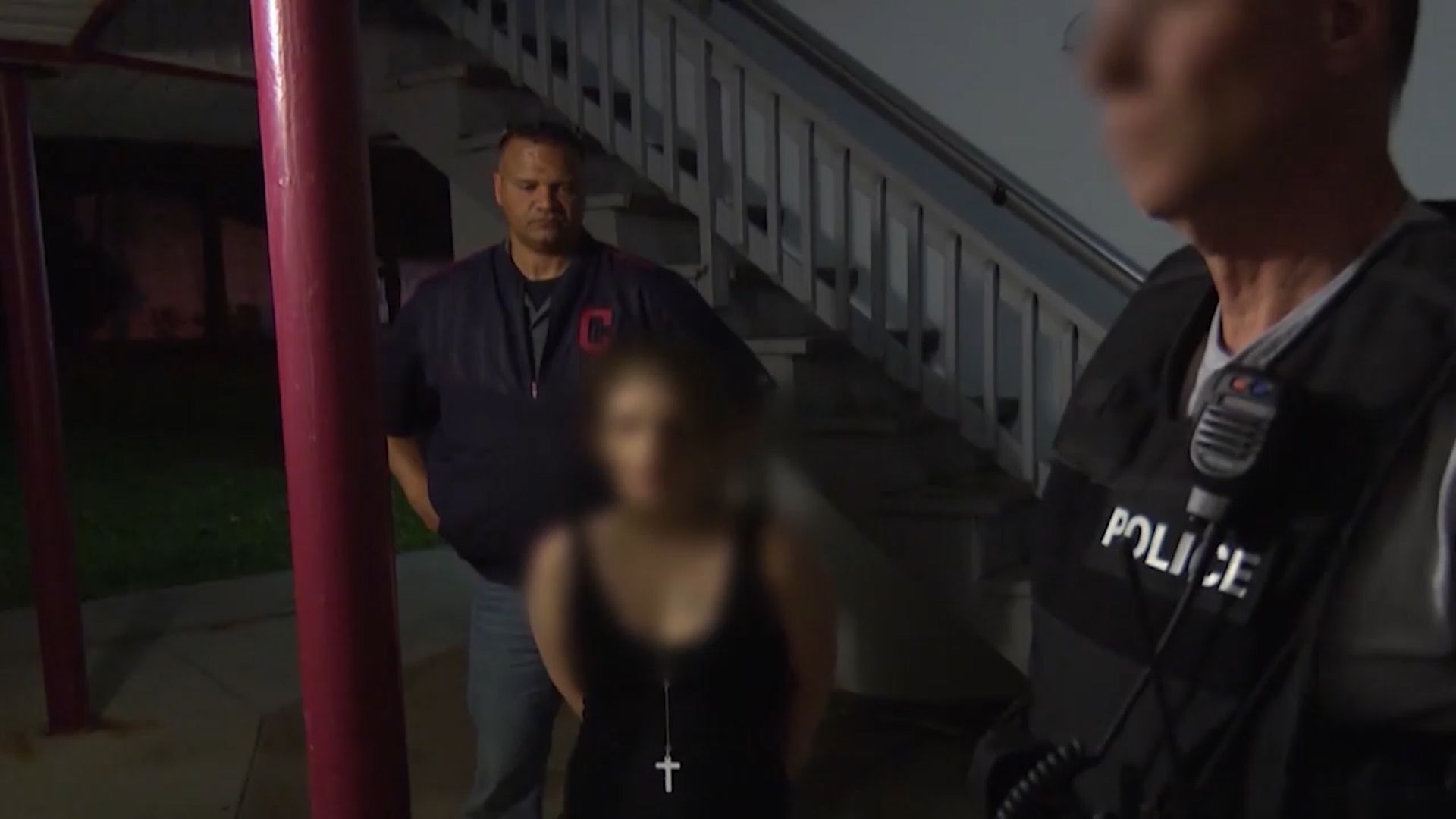 It was just past midnight in North Olmsted and the Cuyahoga County Regional Human Trafficking Task Force was assisting the Westshore Enforcement Bureau (WEB) on an investigation at the Camelot Inn.
Some of the officers wore bulletproof vests. One held a battering ram to break the motel room door if needed. He shouted: "Police! Open the door." After the order was repeated several times, the door swung open and officers rushed into the room.
"We are executing a search warrant for these premises regarding both drug abuse and suspected prostitution activities," said WEB Special Agent Jeff Capretto. "We suspect there is human trafficking occurring."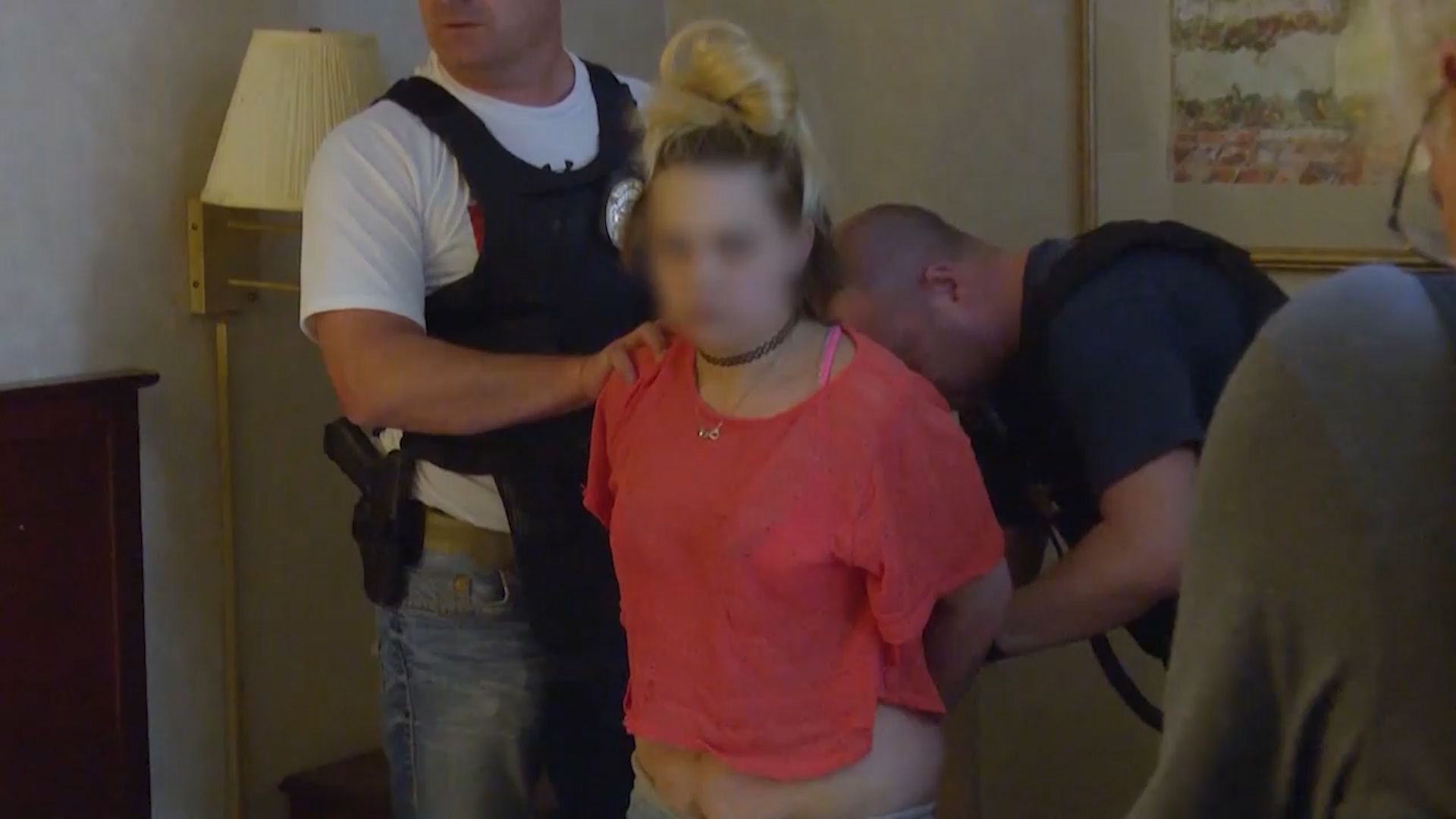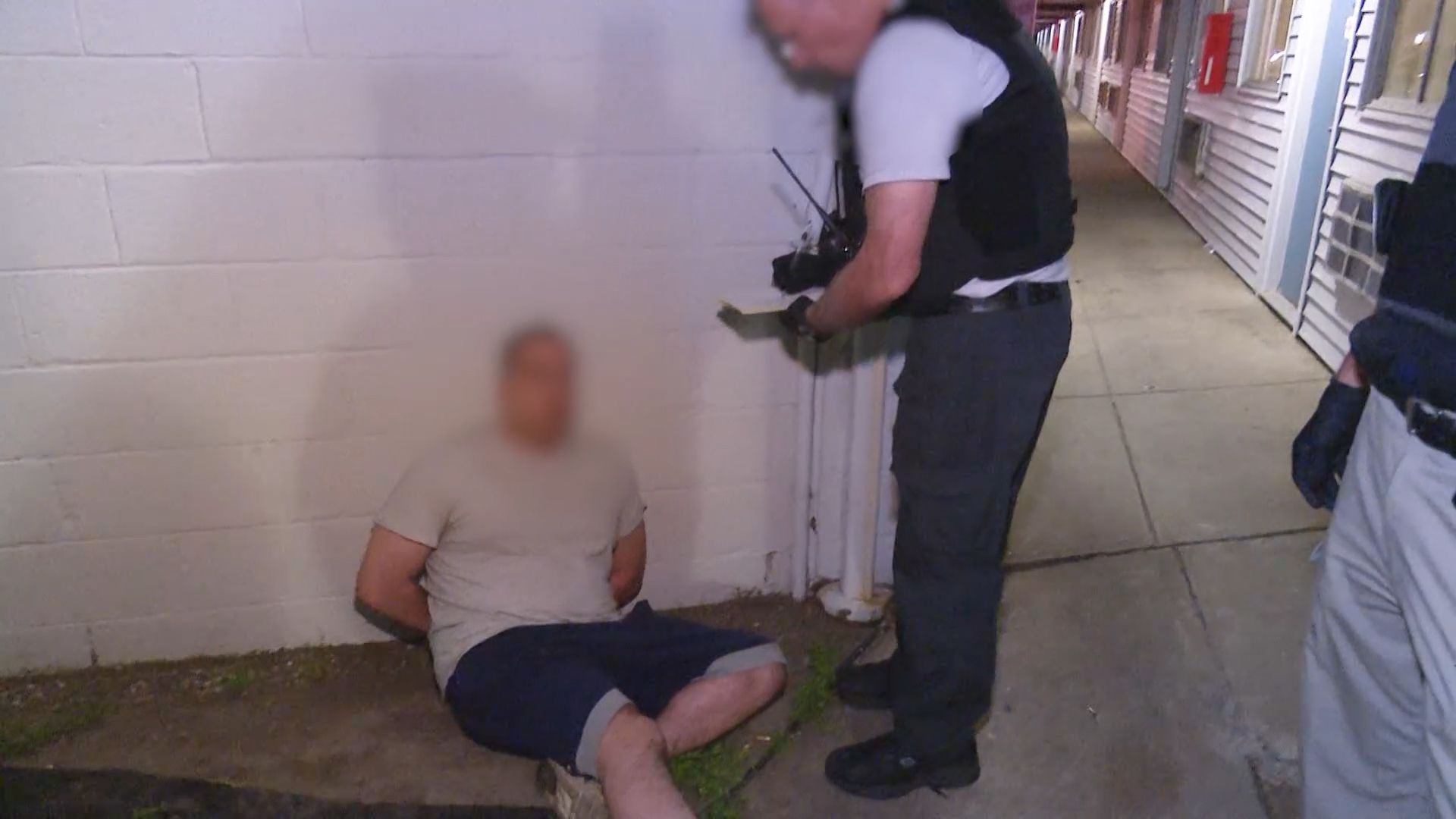 Human trafficking - the illegal trade of another person for either sexual or labor exploitation - happens every day in every state.  
Ohio has the fourth most reported cases of human trafficking in the country.
However, those who work to put traffickers behind bars and rescue the women under their control say that doesn't mean this crime is more prevalent in Ohio than in other states. They believe it shows that more people in the area know the signs of this crime and are doing something about it.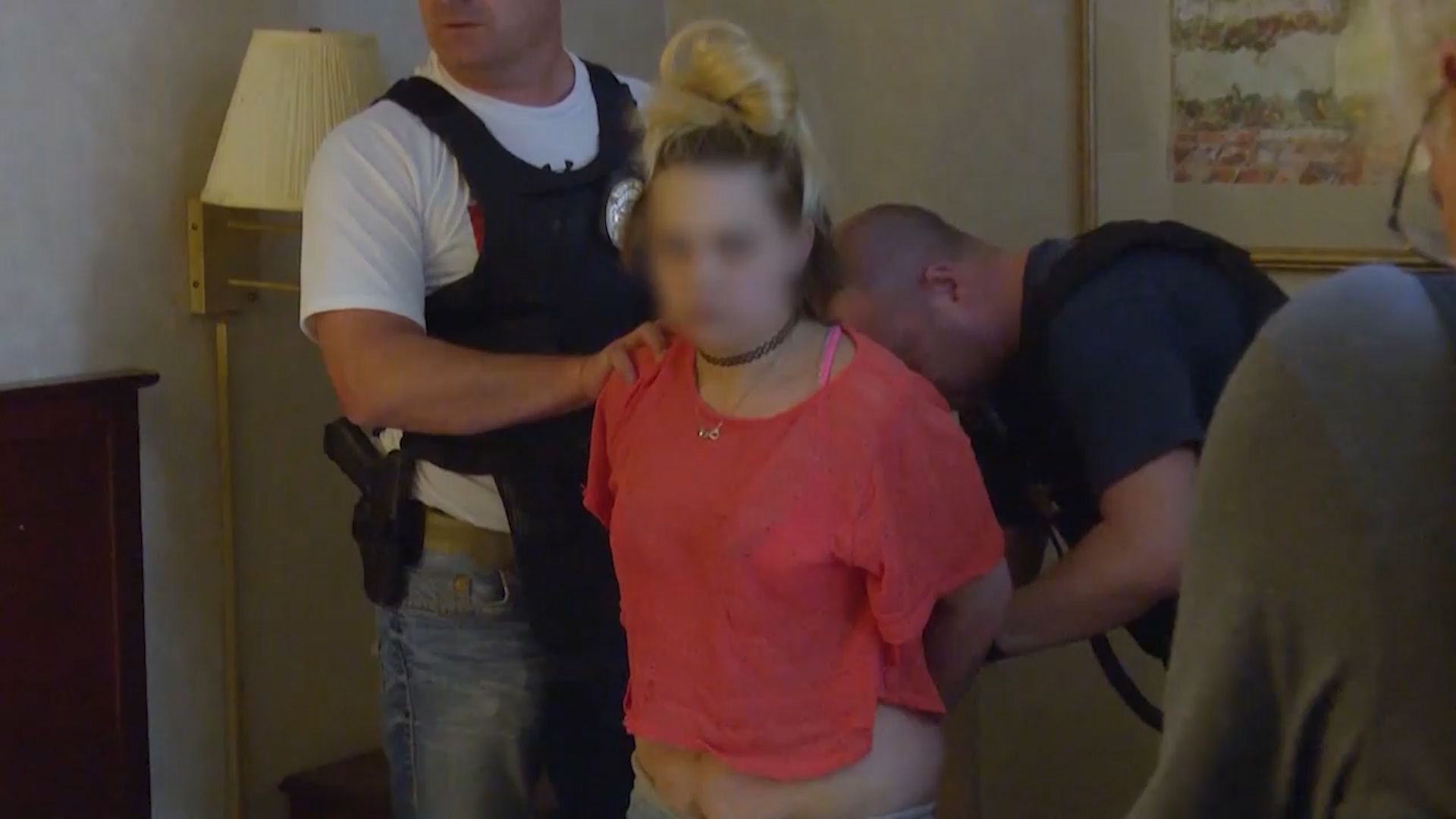 At first officers place handcuffs on the woman inside the hotel room until their investigation reveals she is a human trafficking victim. Then they send her to the hospital to be checked out. [Gabriel Kramer / ideastream]
"Human trafficking can happen anywhere whether it's Seven Hills, Westlake, Mayfield Heights, or Gates Mills. It does not matter," said Sheriff's Detective John Morgan with the Cuyahoga County Regional Human Trafficking Task Force.  "Where there are hotels, there's potentially human trafficking going on. In addition, it doesn't necessarily need to be hotels. It can happen in apartments."
The women coerced into this lifestyle come from all walks of life.
"Our victims range in age from 12 years old to 66 years old. That 66-year-old was a Eucharistic minister," said Sgt. James Mackey, another sheriff's deputy assigned to the task force.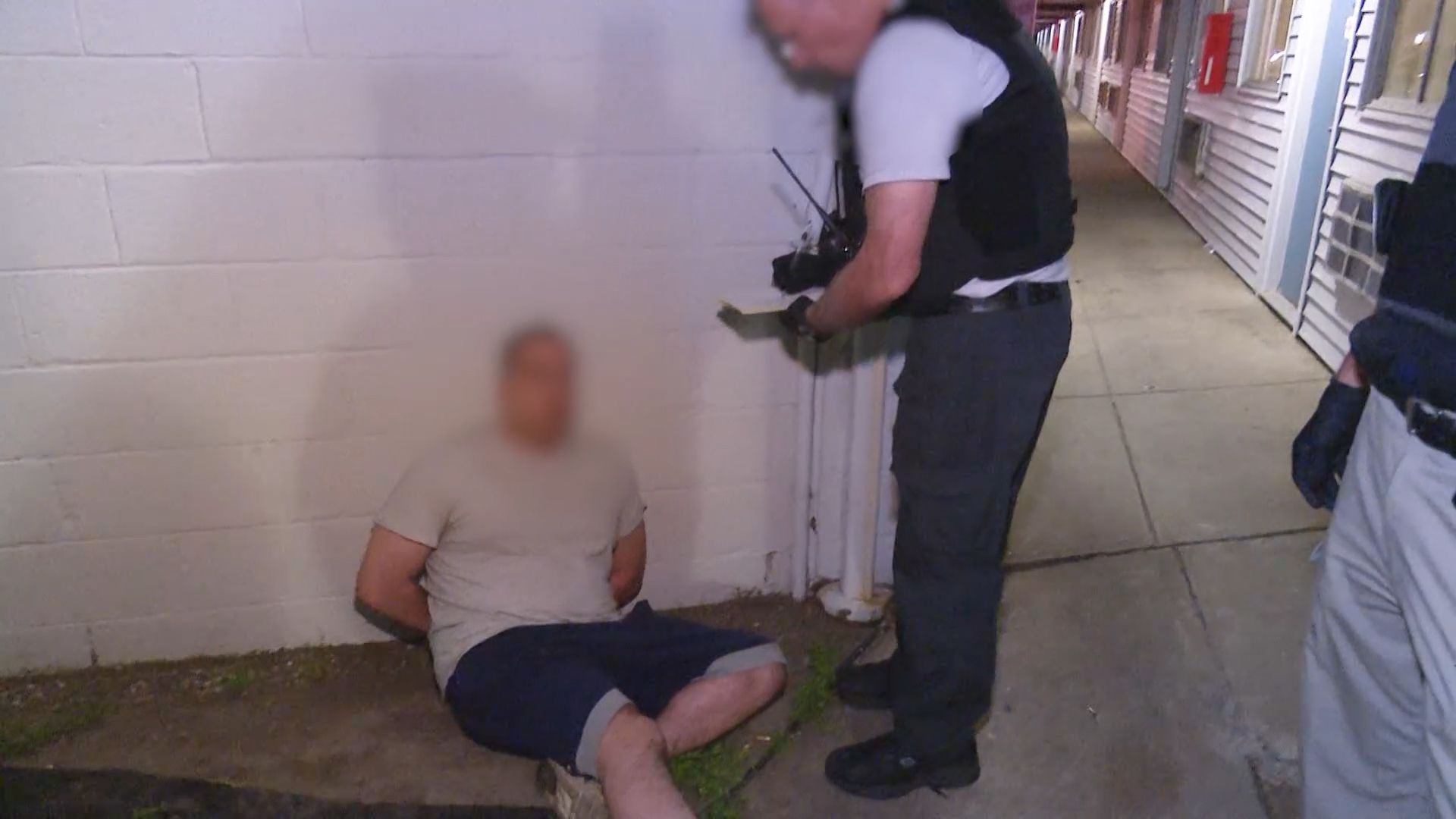 Officer questions the "john" found inside the hotel room. [Gabriel Kramer / ideastream]
"Almost every single victim that we've encountered has some type of vulnerability," he said. "Whether it's issues with money, an opiate addiction or some other type of addiction. Most of the individuals do have some type of sexual trauma. They do have some type of trauma that they experienced as children. So it is a long list of systemic issues that allow them to be victimized."
ideastream's in-depth local reporting is made possible by donations from supporters like you.
Join us as a Member now.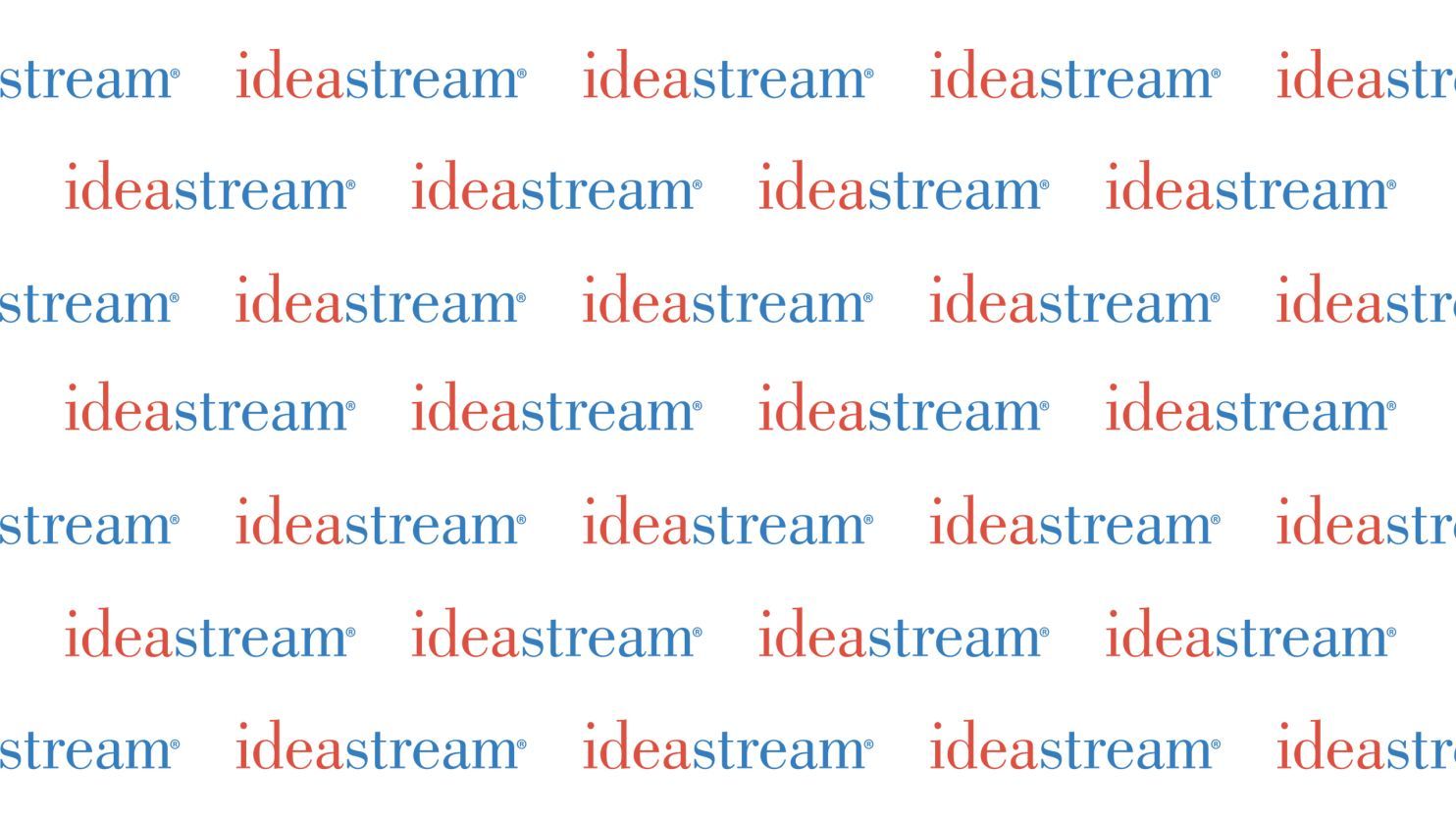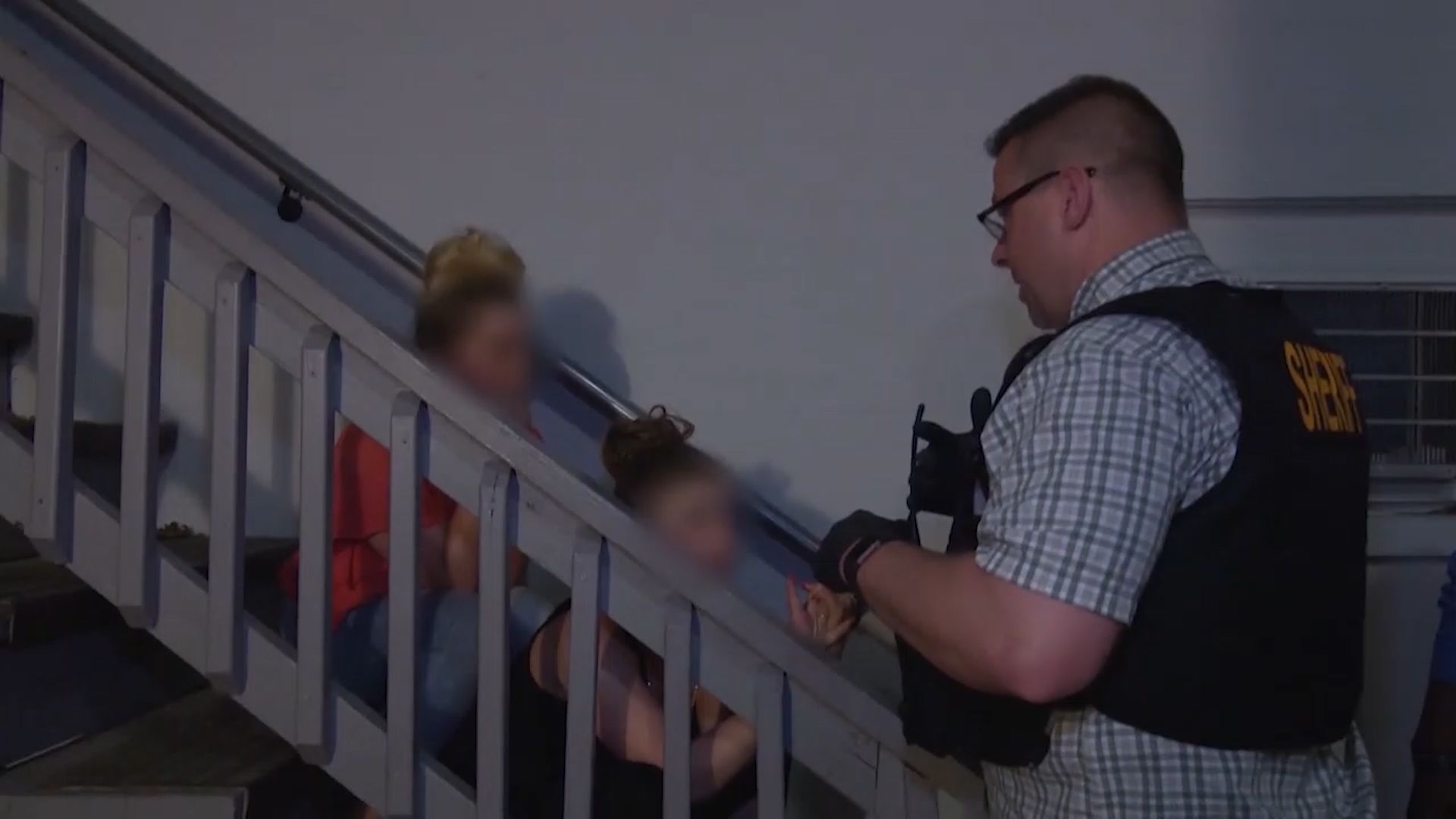 Before heading to the Camelot Inn, at least a dozen officers gathered around a table at the North Olmsted Police Department, sifting through information.  One officer texted a woman he believed was holed up inside the motel room; another called an informant.  WEB Special Agent Capretto tried to locate the suspect, Courtney Hamilton, who they believed was selling women for sex inside that motel room.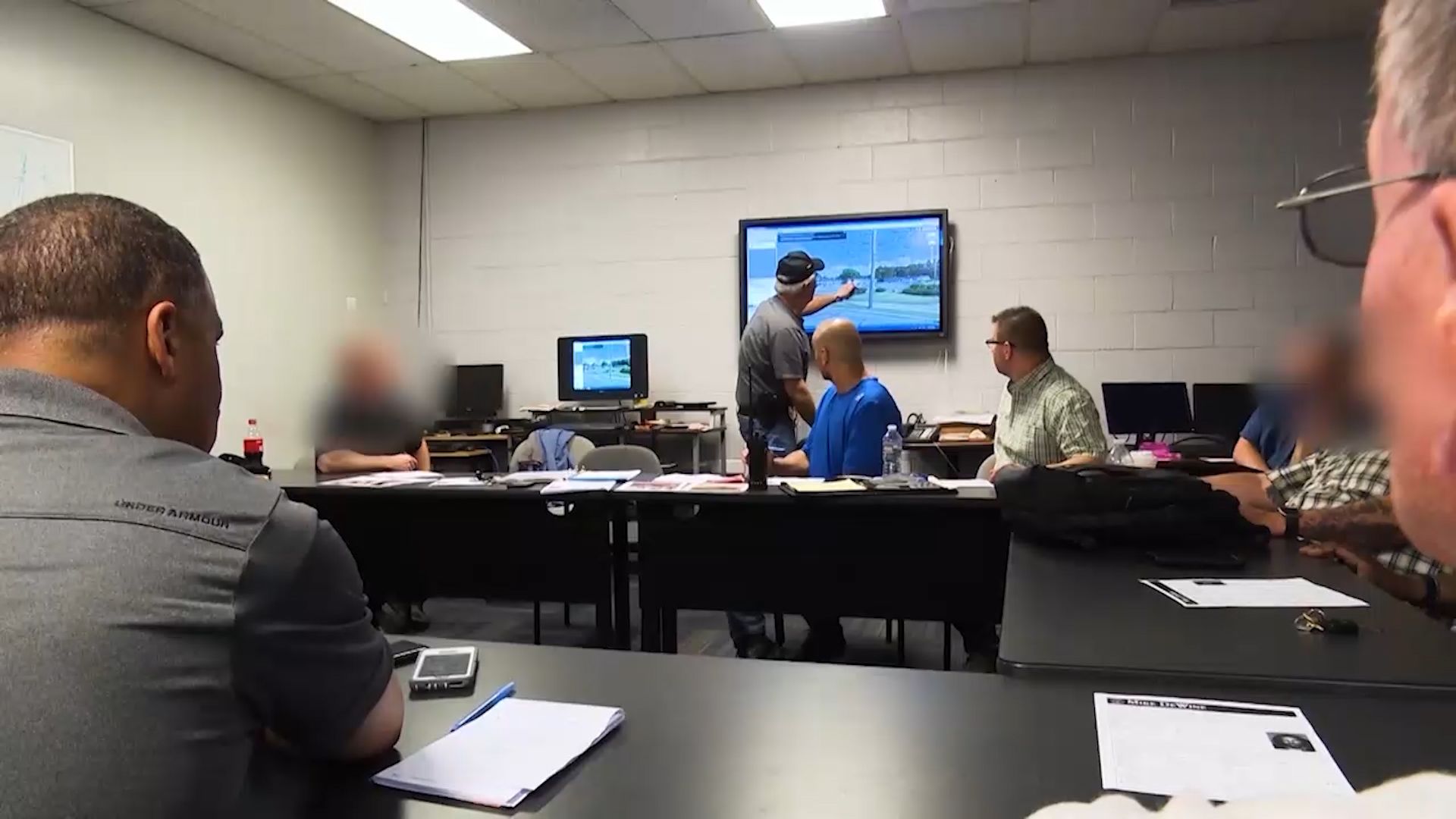 Told by the informant that Hamilton was on his way to the motel on Lorain Road, task force officers decided it was time for them to go there, too.
Once on the scene, they watched from their cars as vehicles entered the motel parking lot. After about an hour, they saw the car they were looking for and moved in.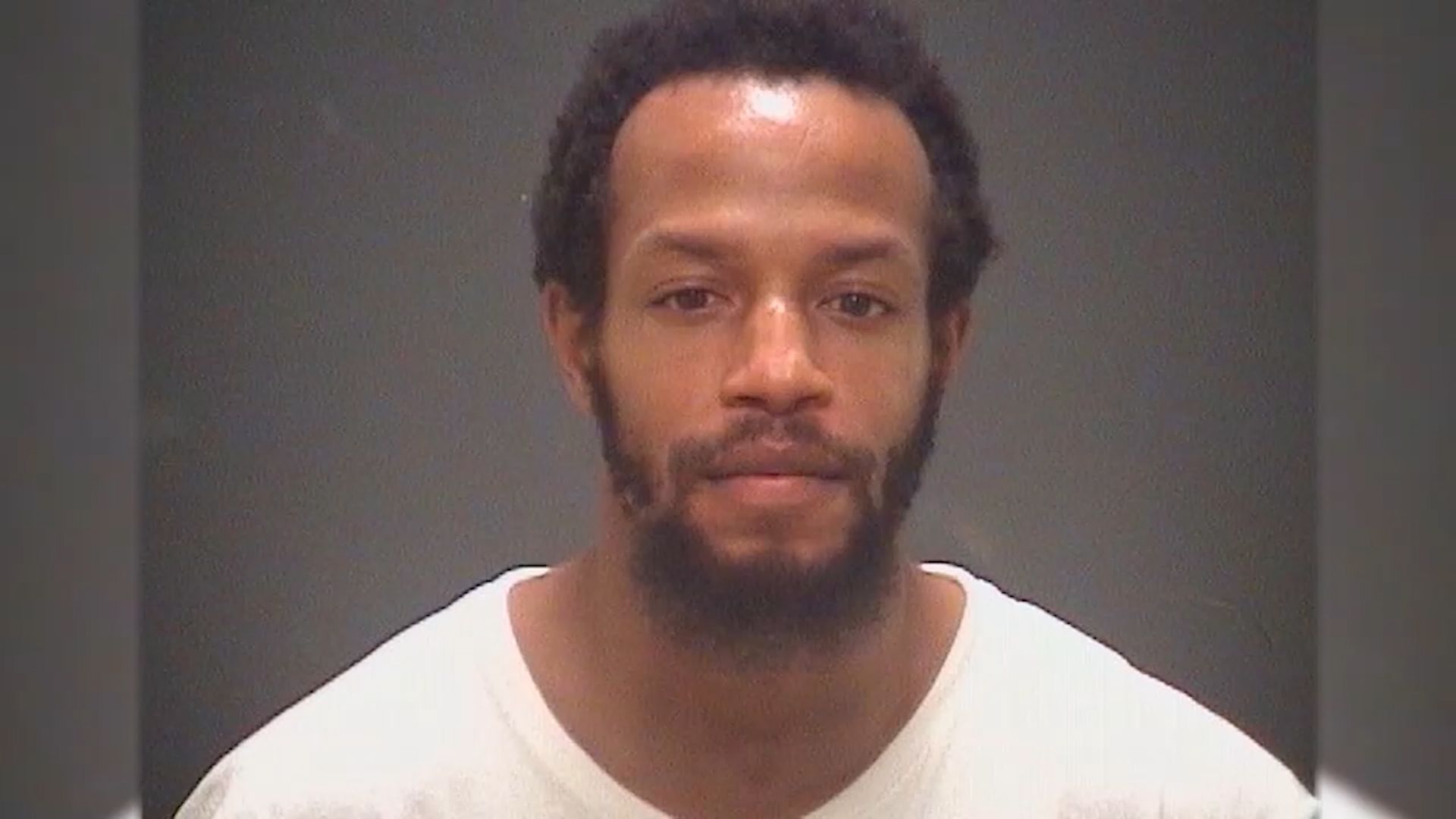 Officers found the room a mess with two women, who looked disheveled and high, and a man, later identified as a "john," inside. They also found crack cocaine.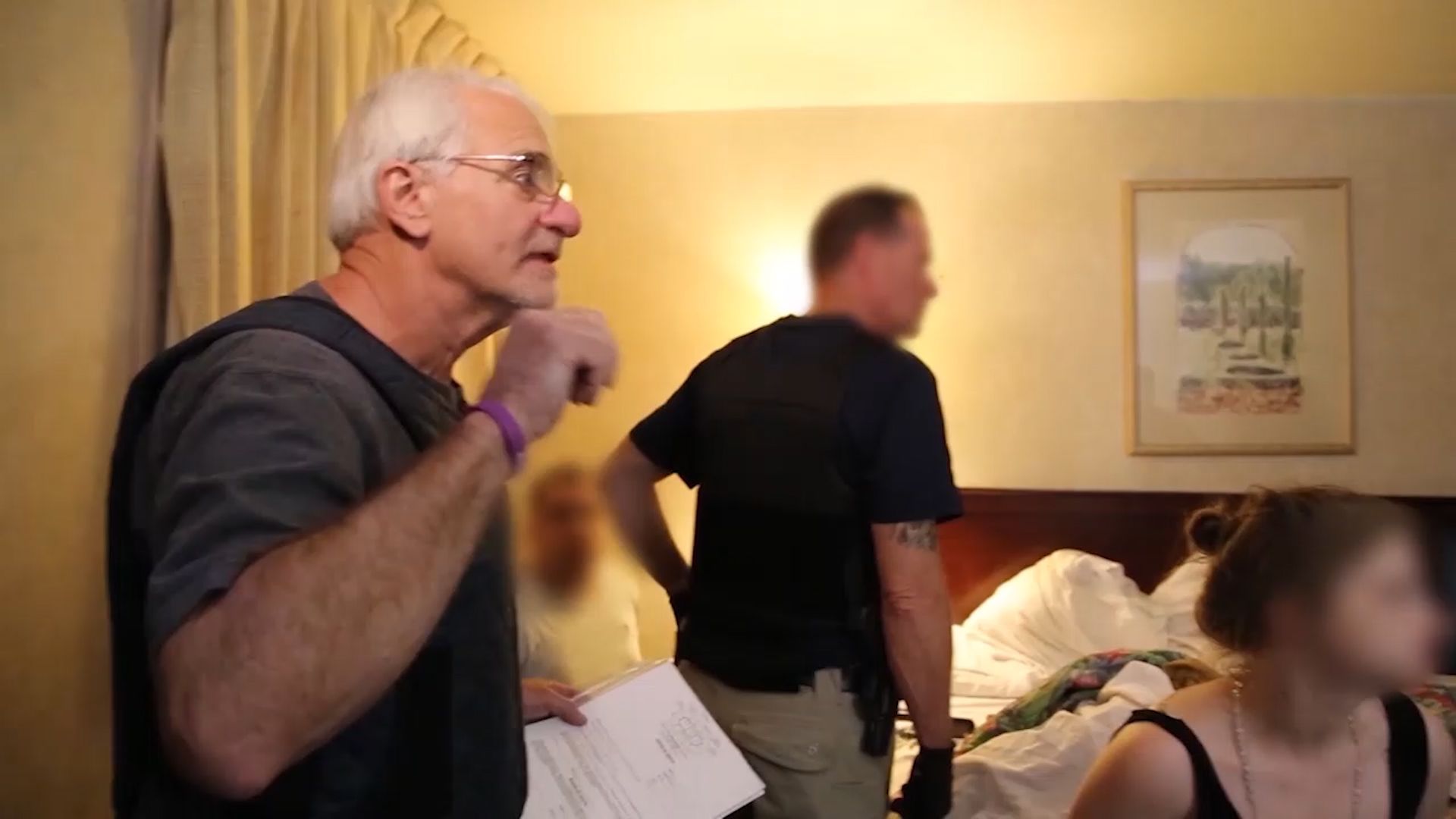 One of the women said she met Hamilton on Facebook. Within a few weeks, she said, he had her hooked on heroin.
"He tried to get me to have sex with that guy last night or the other night. I definitely didn't want to do it," she said.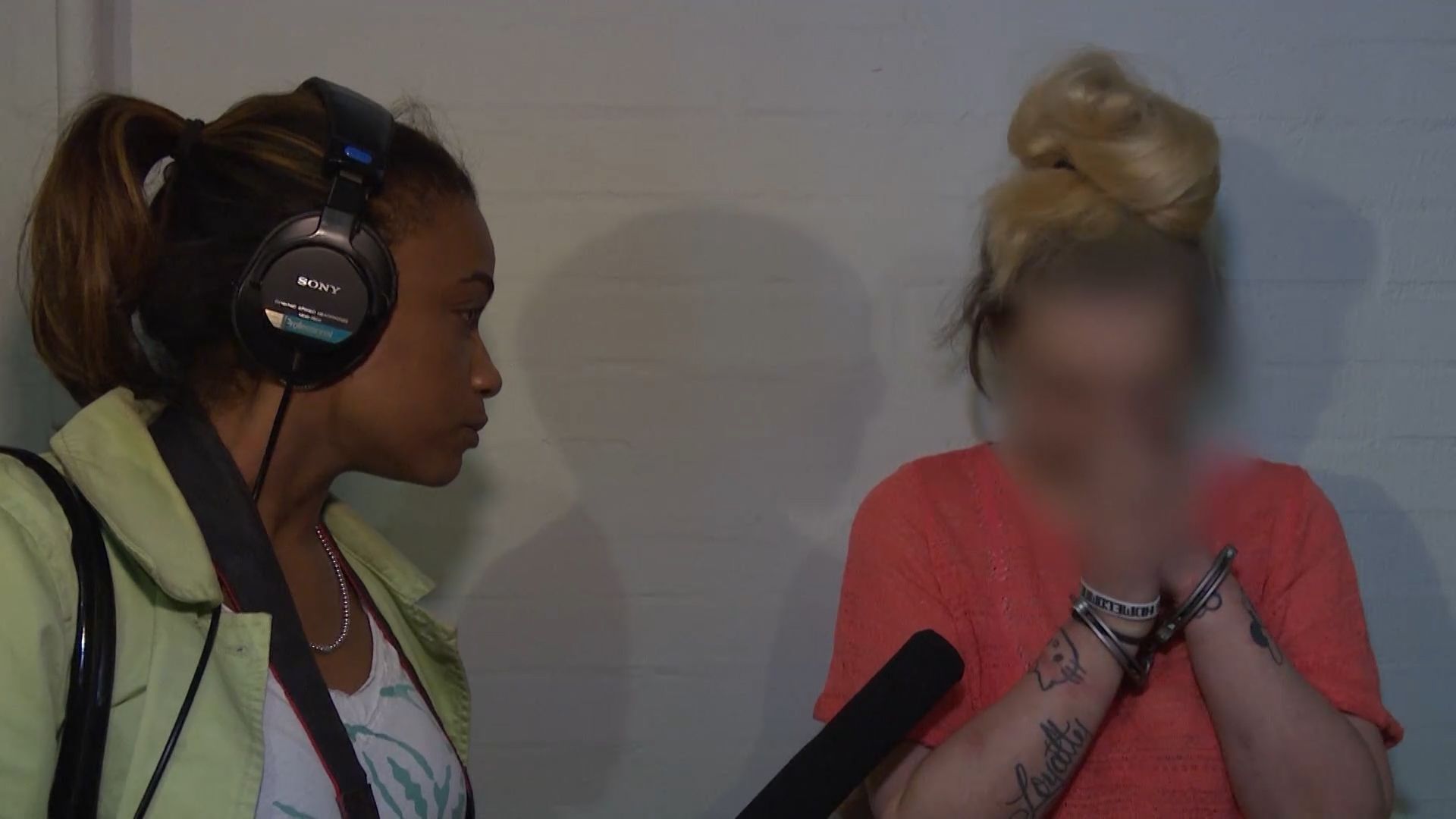 She said she didn't remember how long she'd been in the motel room.
Hamilton was not there, but uniformed officers soon arrested him during a traffic stop near the motel.
Cuyahoga County prosecutors indicted Hamilton on 14 charges including human trafficking, promoting prostitution and drugs. He pled guilty to two counts of trafficking and one count of promoting prostitution. He was sentenced to 18 months in prison.
The Cuyahoga County Regional Human Trafficking Task Force's goal is to apprehend suspected traffickers and rescue the women they are selling. 
From its inception in 2016 through the end of 2018, the task force received 158 tips, served 29 search warrants and recovered 79 people. Its investigations led to 67 indictments and six convictions. Other cases are pending in the court system.
Ten officers, who work around the clock, make up the task force. At times, investigations may sprawl across the country and involve many pimps and women.
Mackey said the task force can't catch these criminals on its own.
"We need community help through different social service organizations as well as different government organizations," said Mackey. "We've been able to educate both the general community and the professionals working in this space, and that is one of the biggest things that has led to an awareness of human trafficking."
Problematic Prosecution
The Cuyahoga County Prosecutor's Office formed a specialized unit to pursue human trafficking cases shortly after Ohio enacted the Trafficking Persons Statute in 2011.
Former Assistant County Prosecutor Holly Welsh, now a magistrate with the Juvenile Division of the Cuyahoga County Court of Common Pleas, ran the Human Trafficking Unit for eight years. She said the statute made promoting prostitution a more serious felony if coercion can be proven.
"It also made it a more serious offense for people to have children engaging in prostitution," she said.  "So where forcing a woman to engage in prostitution used to just be a promoting prostitution felony of the fourth degree, it's now felony of the first degree, and it carries a penalty of 10 to 15 years in prison."
Prosecutors dedicated to these cases work closely with the Cuyahoga County Regional Human Trafficking Task Force to build cases.
"There's strength in numbers," said Welsh. "So I push [the detectives] a little bit harder, and they in turn push me a little bit harder. "
Prosecuting human trafficking is a challenge, Welsh said, because law enforcement needs the cooperation of victims. But, he added, those victims have often been abused, traumatized or addicted to drugs.  In addition, many have criminal records, which can open their credibility to attack in a court of law.
"These people [the pimps] are profiting off of the pain of others," Welsh said.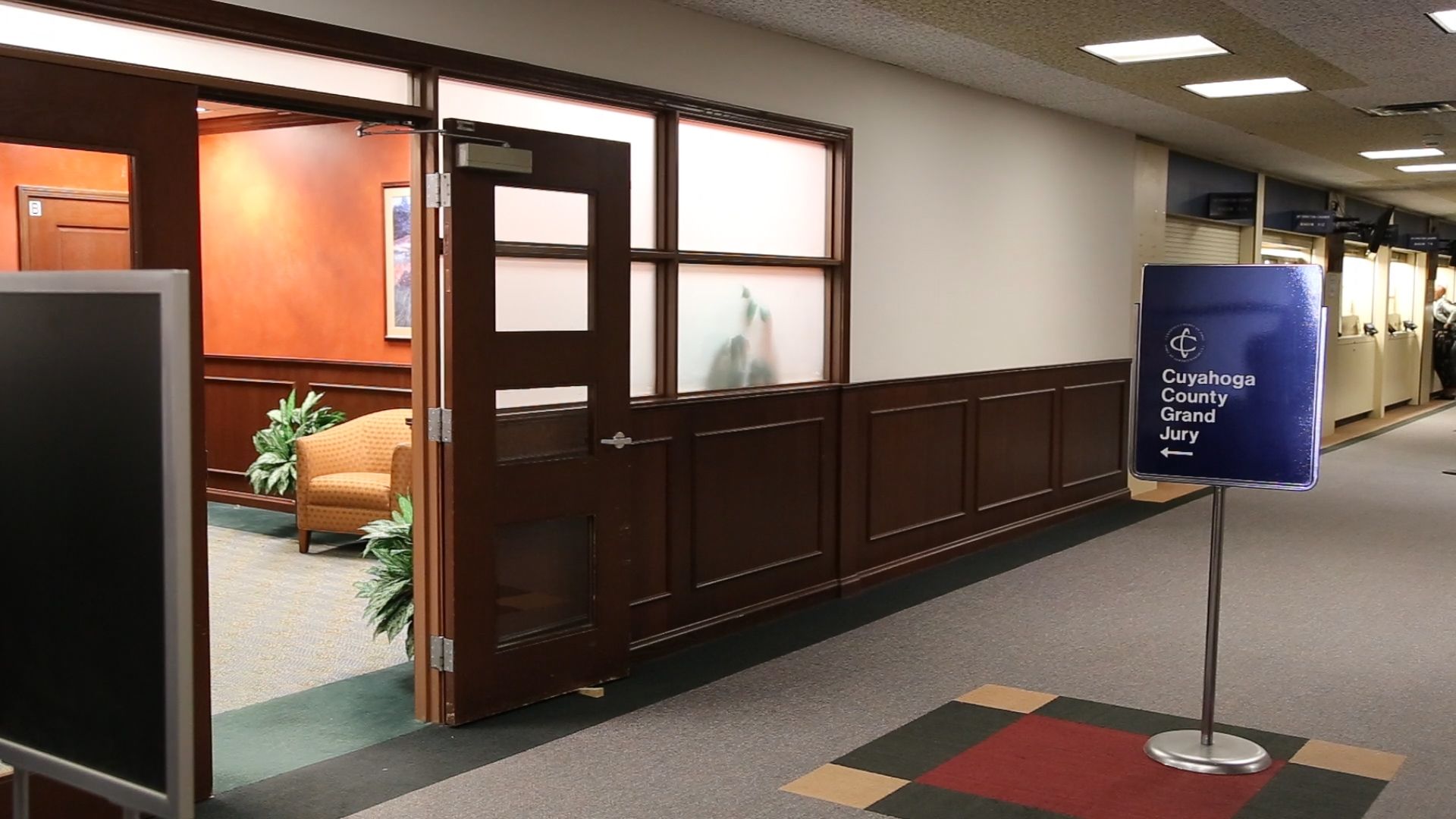 In 2018, Ohio State Senator Matt Dolan (R-Chagrin Falls) introduced a bill aimed at increasing penalties for those convicted of promoting prostitution. The bill passed the Senate, but died in the House. Dolan introduced Senate Bill 5 in February. It has passed the Senate and is making its way through the House Criminal Justice Committee.
Welsh said that if this bill does become law, it would keep repeat offenders behind bars even longer.
"It's very common for us to see people who are repeat offenders of promoting prostitution," she said.  "I think that for some of these people, it's worth the cost of business if you can make thousands and thousands of dollars a week or in some cases you're making maybe $1,000 or $2,000 a day, and the worst penalty that you face is 18 months in prison. If you're a career criminal, maybe it's worth that cost to keep committing these crimes."
The Human Trafficking Docket
Life after being trafficked can be scary. Those who help these women rebuild their lives say they've been held in captivity, traumatized, and unable to make their own decisions.
Many survivors are addicted to drugs and have criminal records that include prostitution or drug possession charges. That makes rebuilding their lives even more difficult.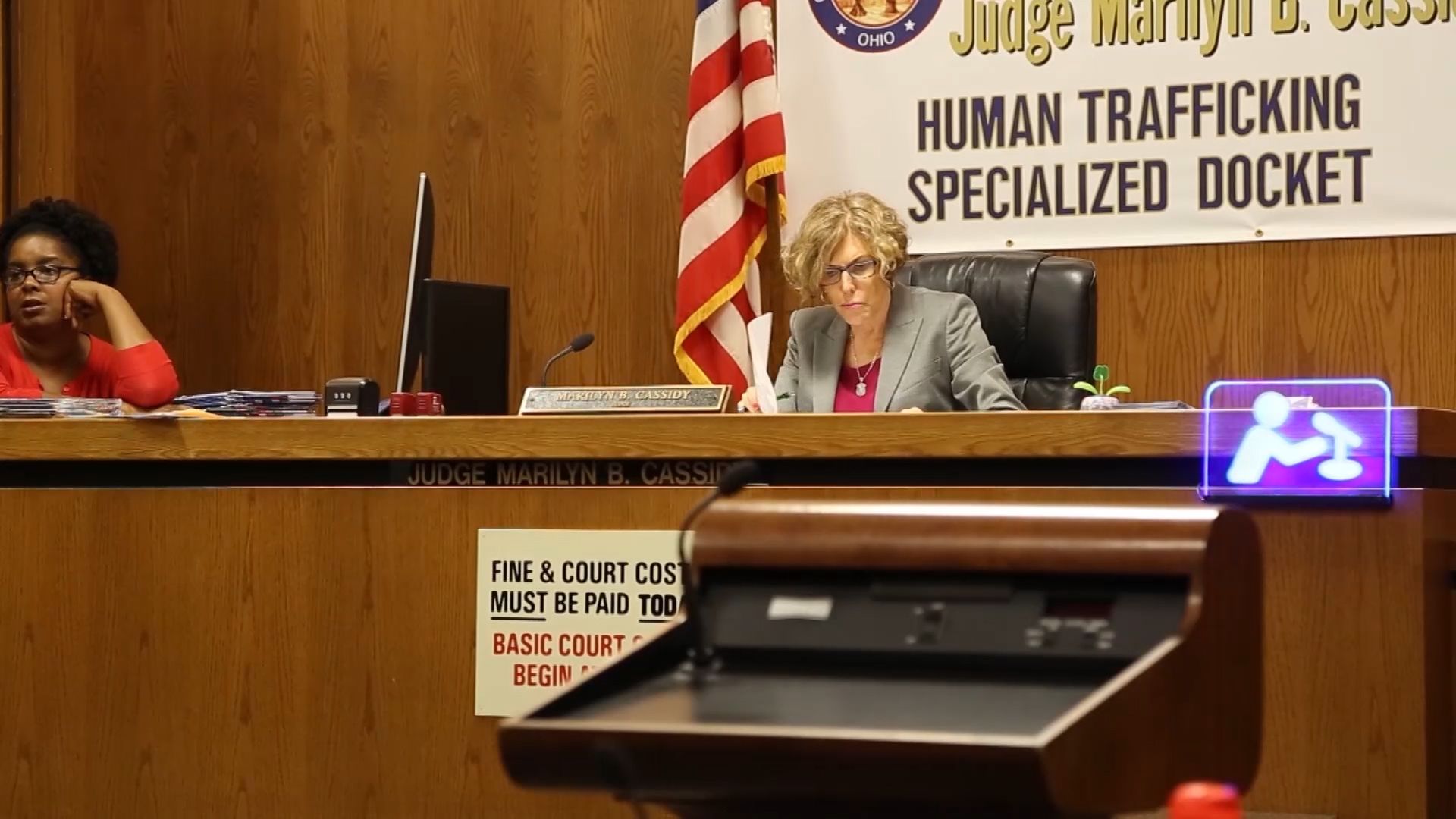 Judge Marilyn Cassidy presides over the Human Trafficking Specialized Docket at Cleveland Municipal Court. [Darrielle Snipes / ideastream]
The lucky ones end up on Cleveland Municipal Court's Human Trafficking Specialized Docket where Judge Marilyn B. Cassidy presides. She works to make her courtroom a welcoming and safe place.
For these cases, Cassidy doesn't wear a judge's robe.  At the beginning of each proceeding, she walks out to music, such as B.B. King's "I Can Fly," then hugs all the women on the docket, including the ones who came straight from jail.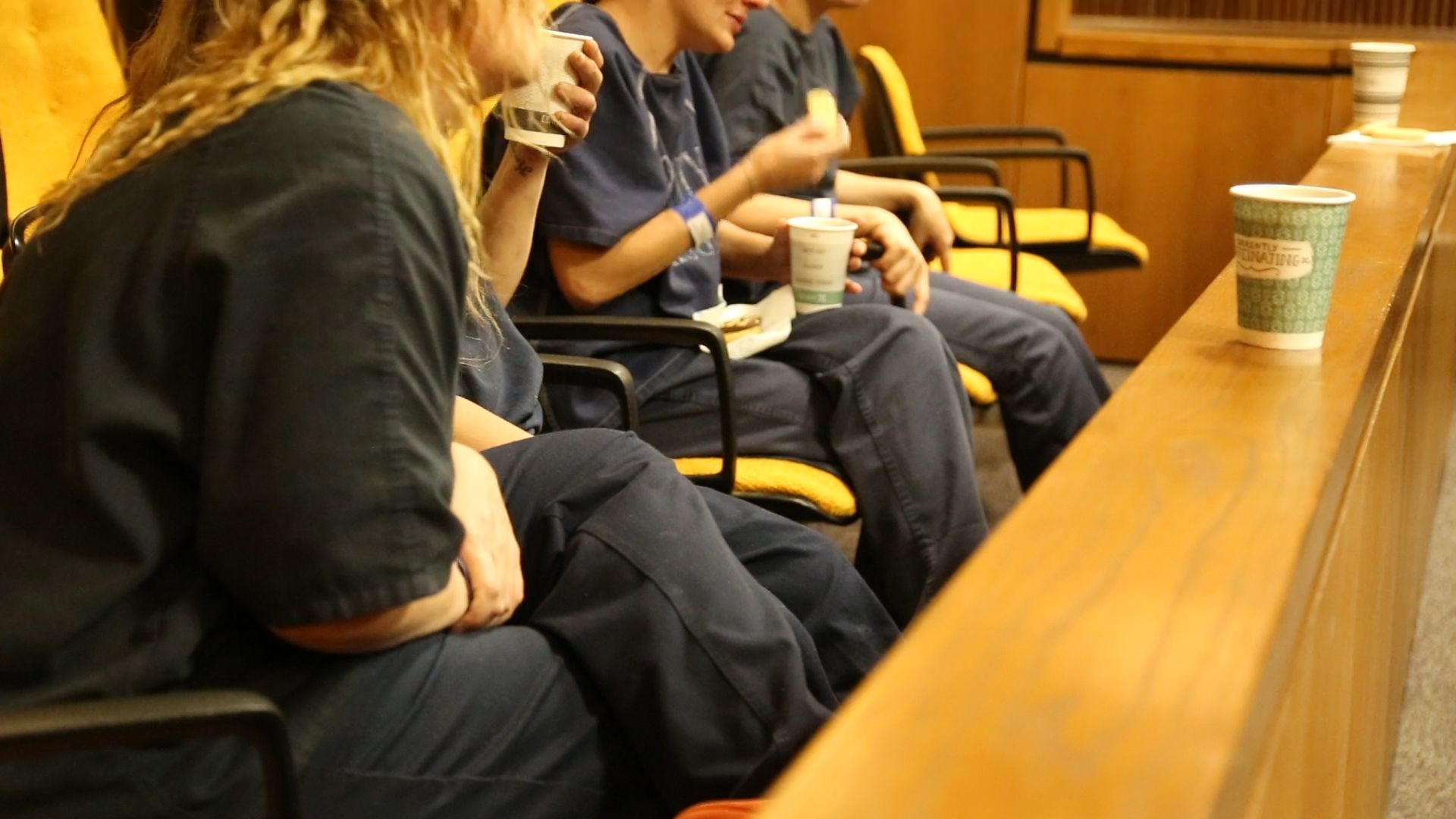 Some women on the Human Trafficking Specialized Docket appear in Judge Cassidy's courtroom after being arrested for related crimes. [Darrielle Snipes / ideastream]
"Most of these women have been in and out of jail most of their adult lives, even if they're a young adult," said Judge Cassidy. "So that's really not all that meaningful to them to be in jail. But what is meaningful to them is to say, 'We're really happy to see you here today.'"
Cassidy says the docket acts as an alternative to traditional criminal proceedings by "providing them the drug treatment, the trauma counseling and all of the support systems, specifically safe housing. Then we provide employment skills."
She says many of these survivors never developed basic life skills, never had a true support system.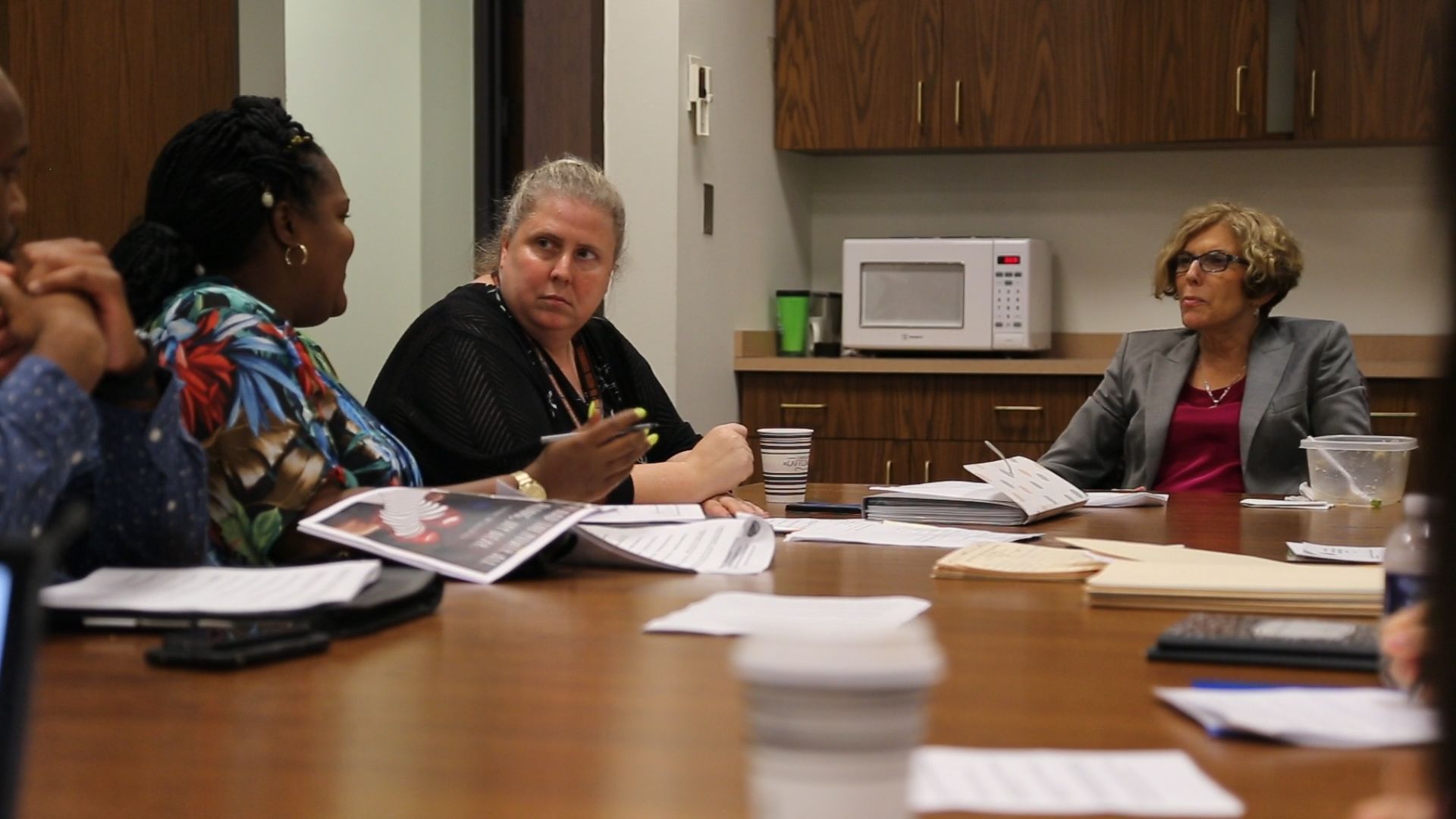 Before the Human Trafficking Specialized Docket begins, Judge Marilyn Cassidy met with prosecutors, counselors and others to discuss the progress of women in the program. [Darrielle Snipes / ideastream]
The special court meets twice a month and attendance is mandatory for those under its supervision. Before each court session, Cassidy meets with a team of counselors, prosecutors and other staff to get an update on each defendant's progress.
"Somebody, somewhere along the line, told these women, 'You're not worth it. You're not worth the trouble. You're. Just. Crap.'"
"So one of the things I do is try to tell them that's not accurate information. You matter. You deserve the best of everything that life has to offer. And it's not going to be an easy road, but even for people under the best of circumstances, it's not an easy road," she said.
When these women complete the court's program, there's a graduation ceremony to celebrate their accomplishment. 
Judge Cassidy calls it a special day.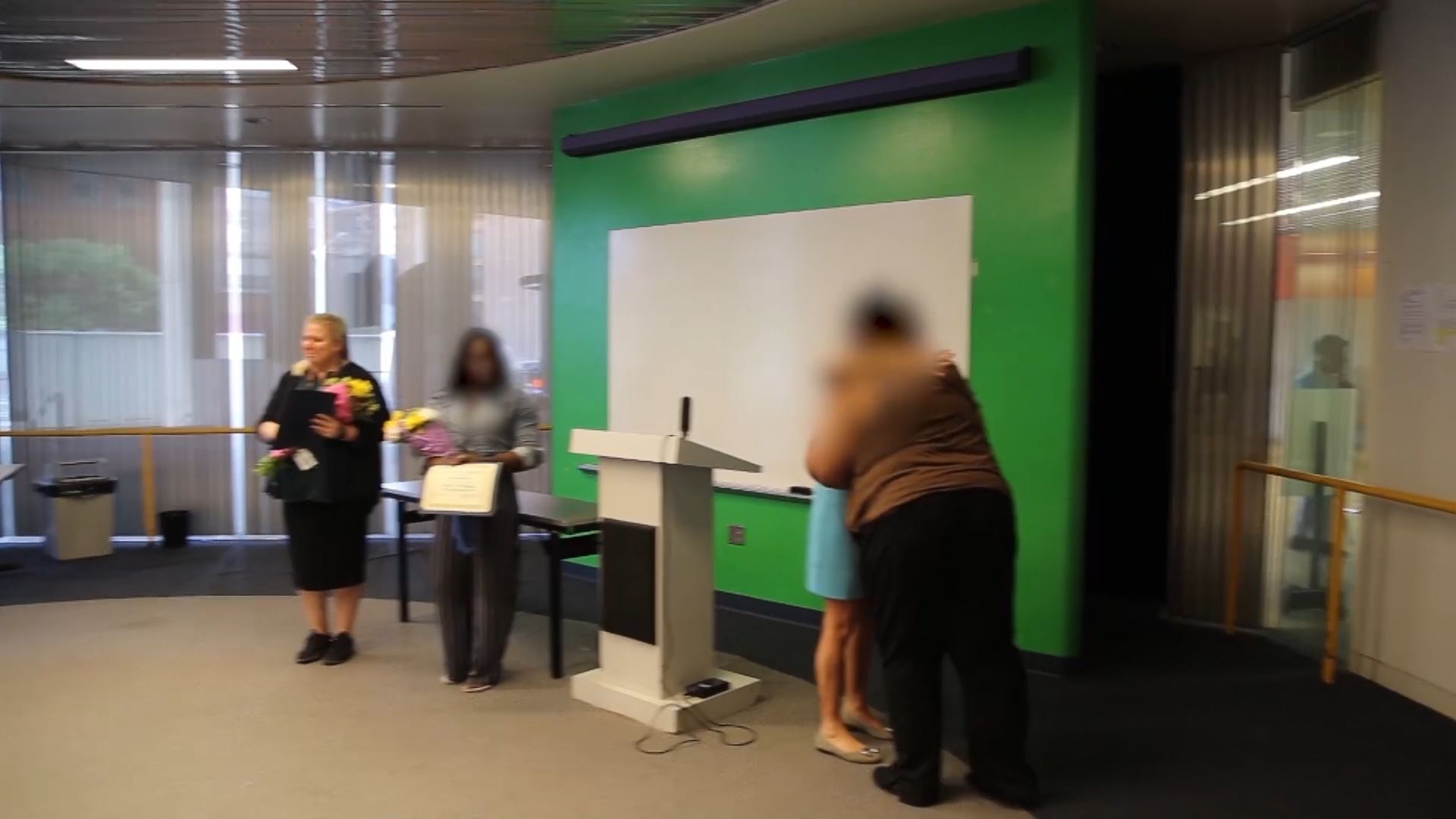 Completing the Human Trafficking Specialized Docket program can take longer than their actual sentence or probation might have, but the women walk away drug-free, with the soft skills to find a job and a shot at rebuilding their lives. [Darrielle Snipes / ideastream]
"It's really, it's wonderful to see these women [graduate] because they've worked really hard and they've come such a long way," she said.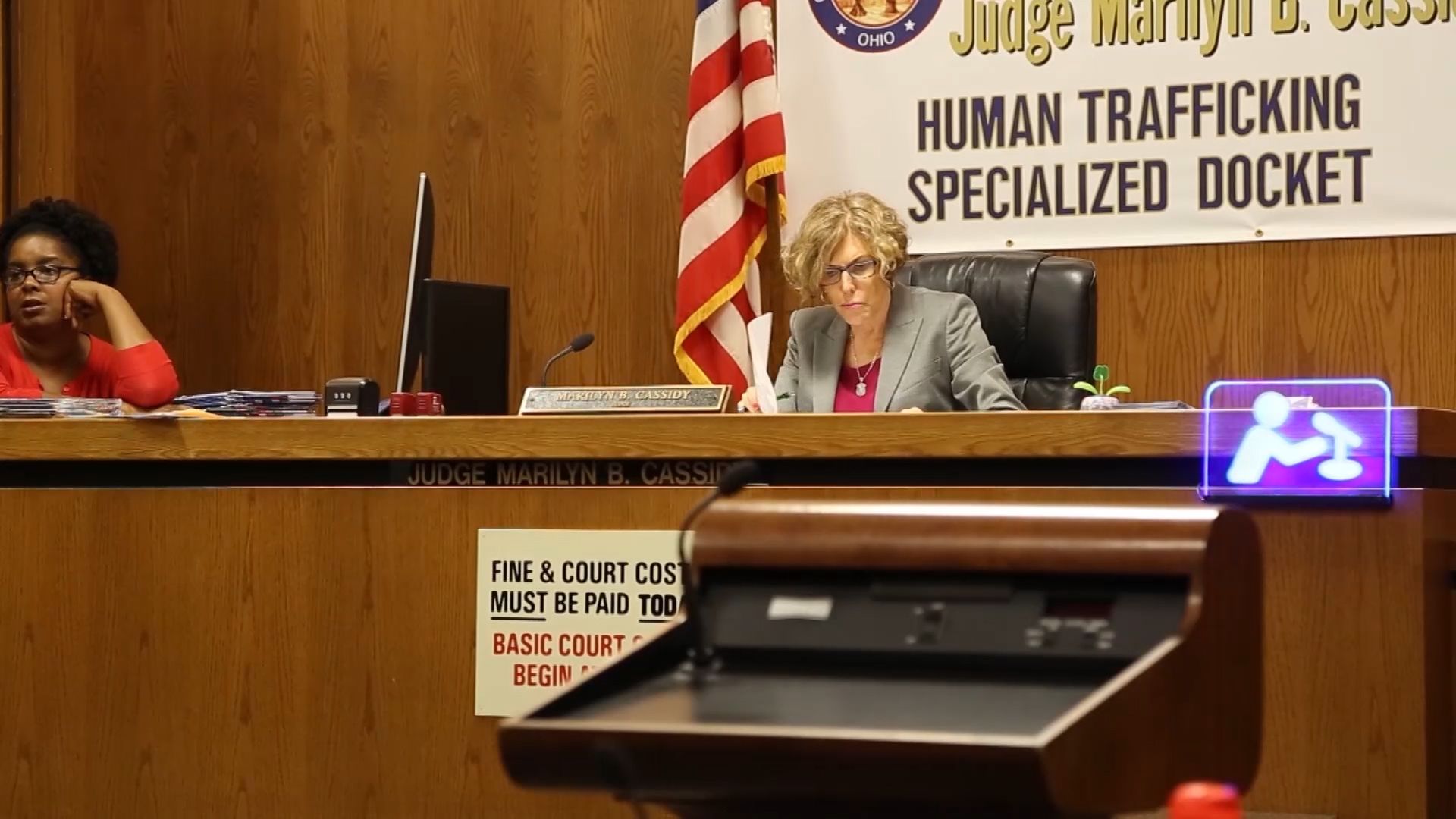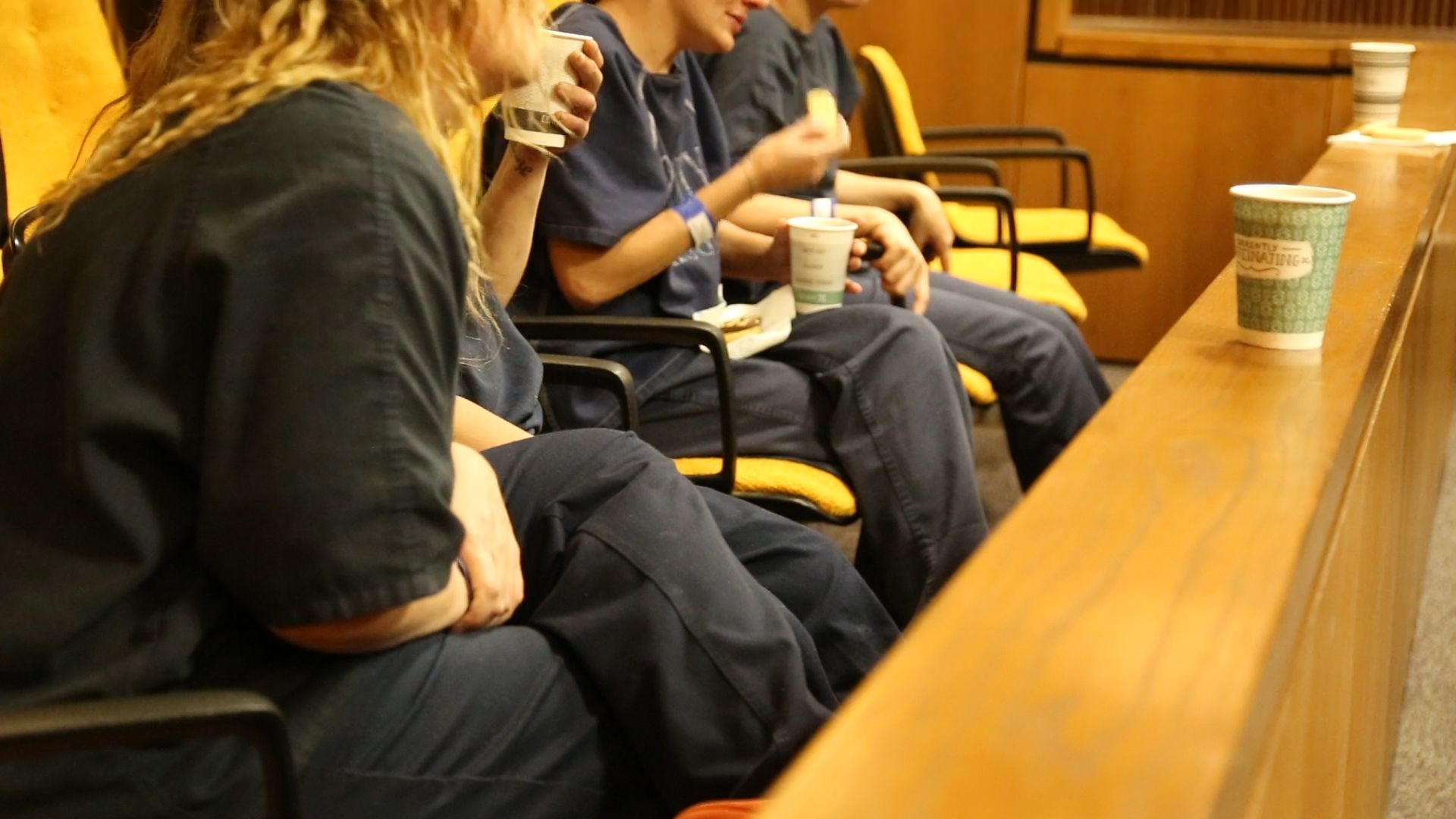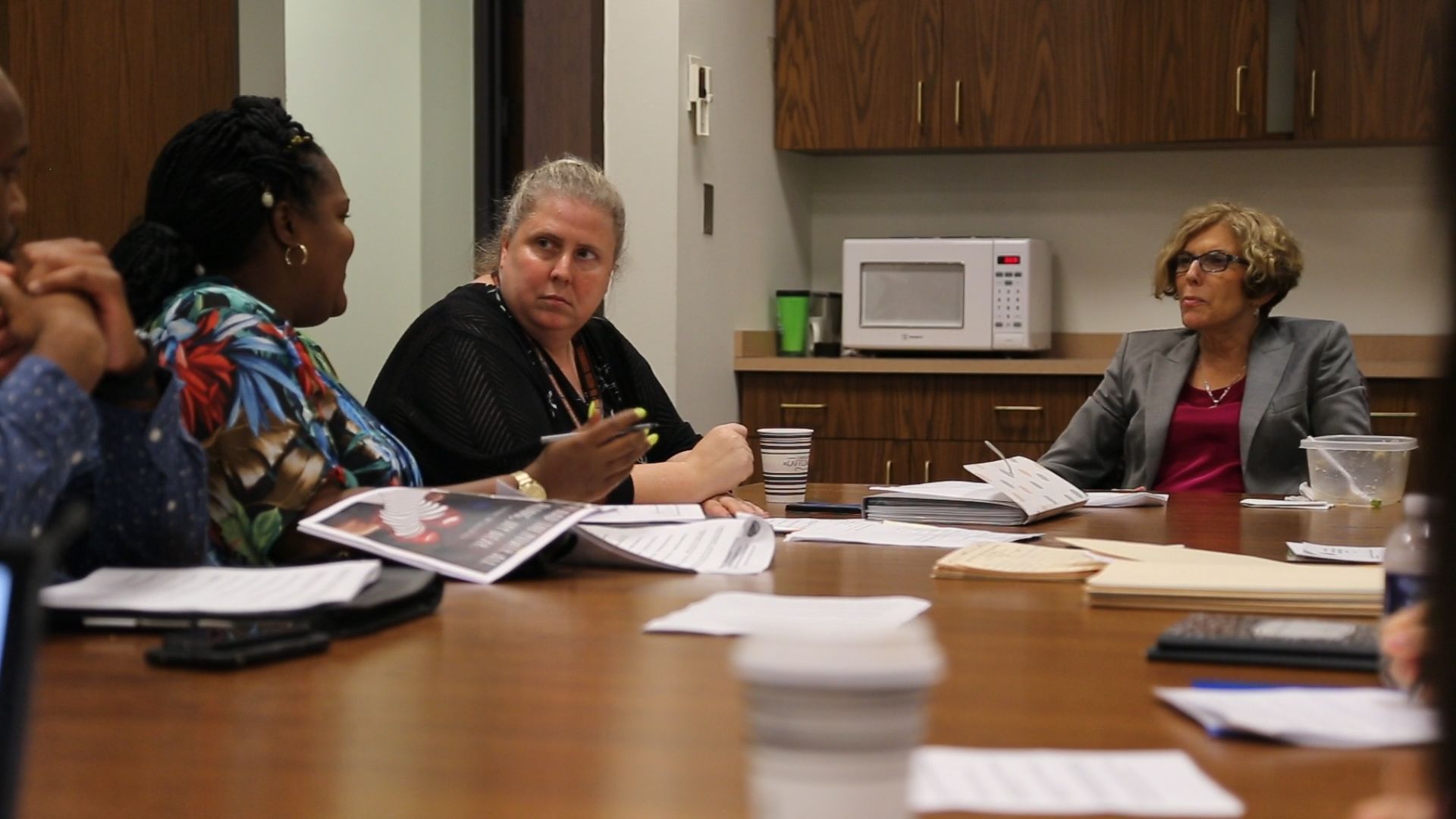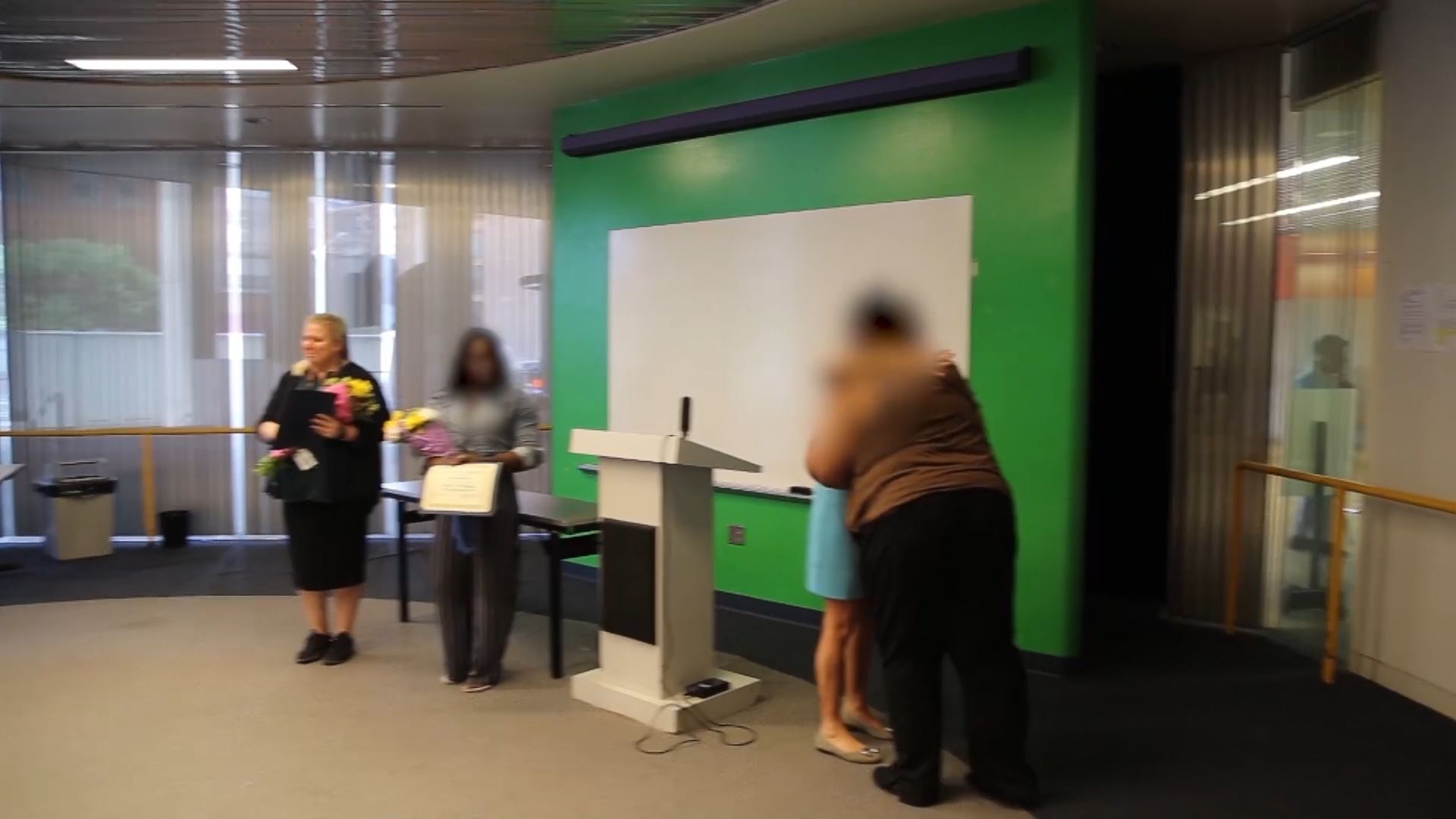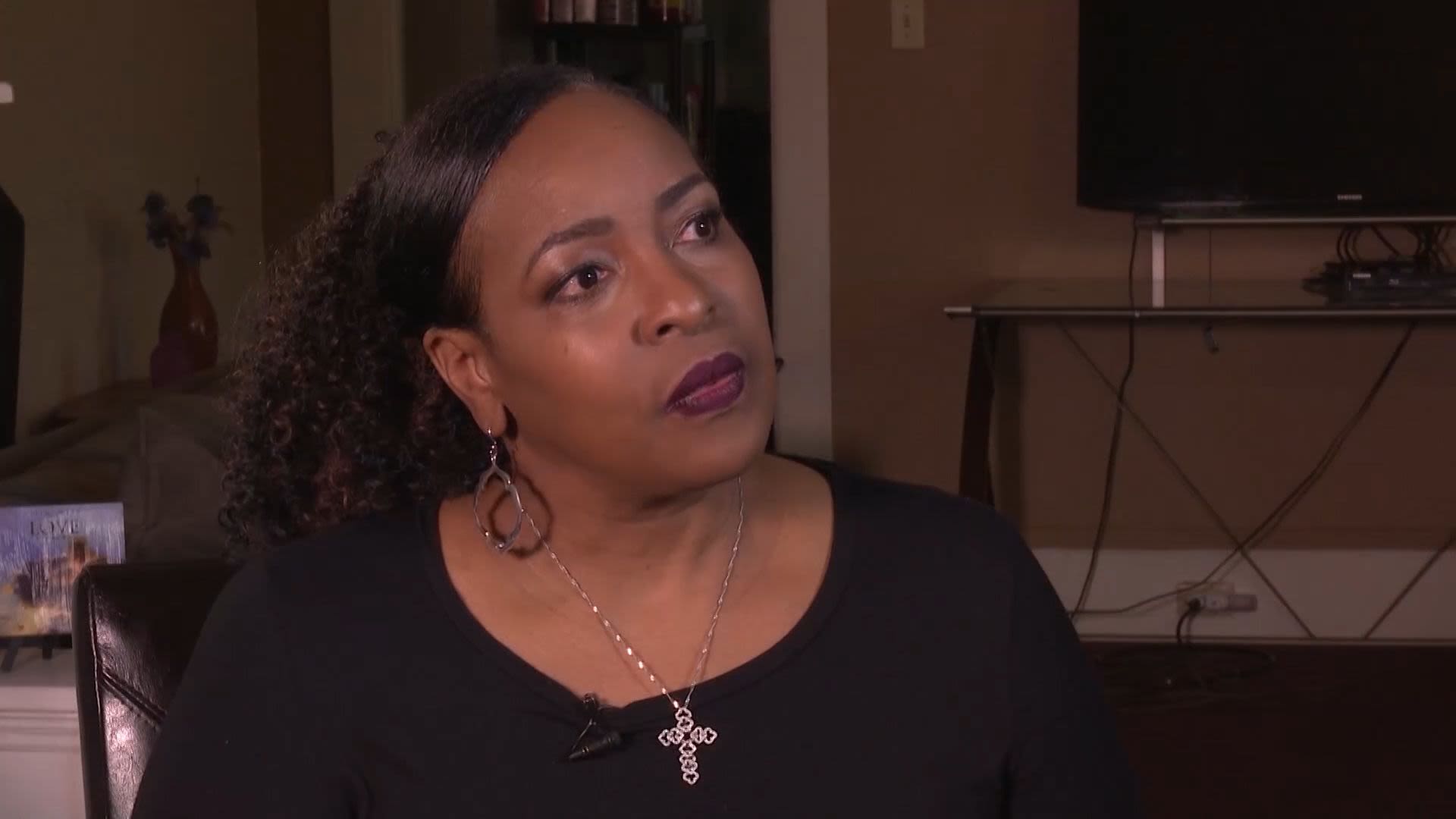 Tenisha Gant-Watson, founder of Jordan Community Resource Center and a human trafficking survivor. [Tim Dubravetz / ideastream]
Tenisha Gant-Watson, founder of Jordan Community Resource Center and a human trafficking survivor. [Tim Dubravetz / ideastream]
"If I had not gone to jail, I probably would be dead."
Tenisha Gant-Watson founded Jordan Community Resource Center in 2004.  Through the nonprofit, Watson runs several homes for women trying to get off drugs and rebuild their lives. Many of the women on the Human Trafficking Specialized Docket stay at these homes while in the diversion program.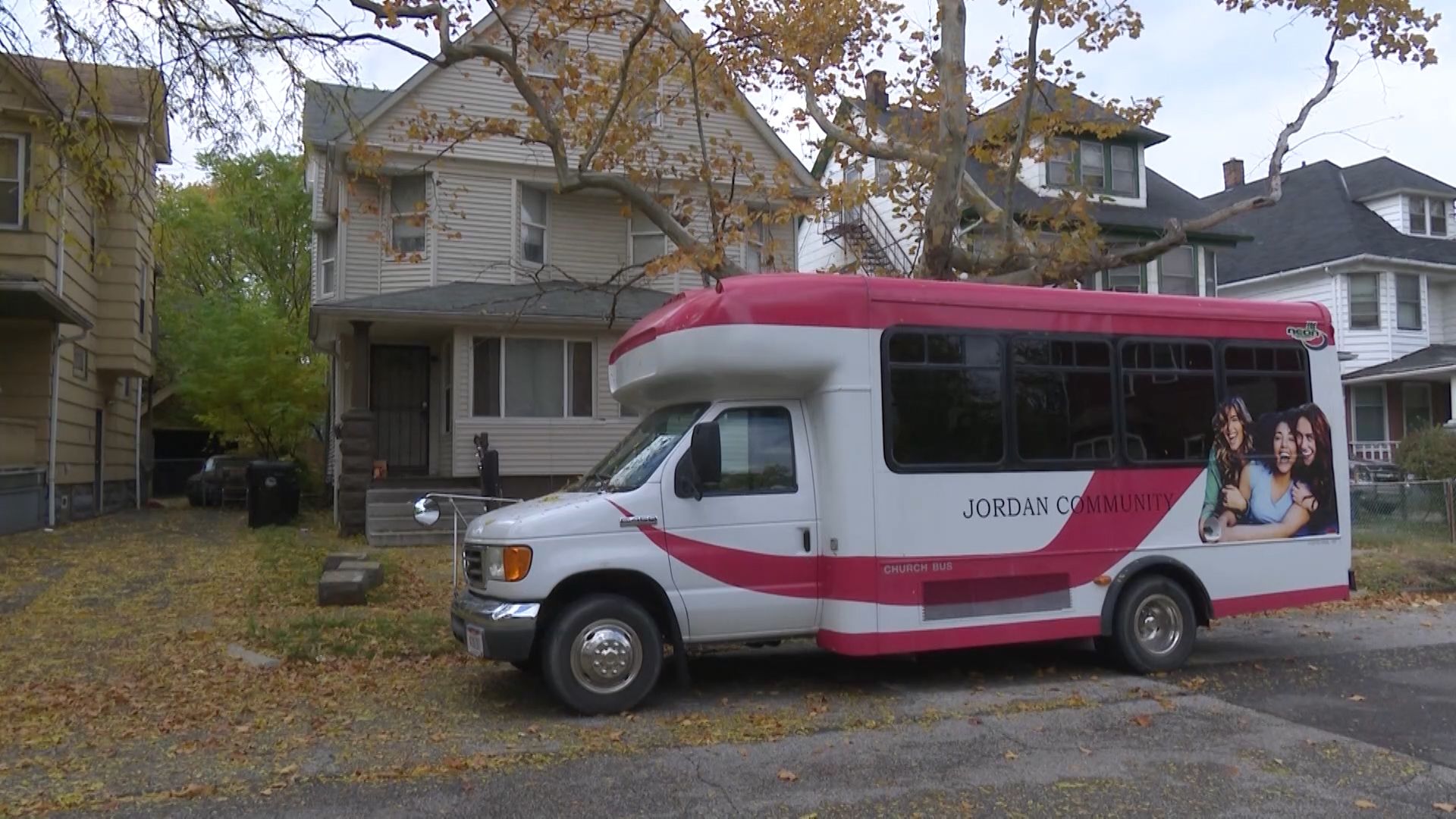 "People ask me why I do what I do. And I say, well these are women in crisis, these are women who have gone through incarceration or something like that. And so I'm here to help," said Gant-Watson.
She knows all too well what these women are going through, because she, too, is a survivor.  Gant-Watson realized that recently while sitting in Judge Cassidy's courtroom.
"Something came over me," she said. "I then really realized that I was one of them."
"Because of the trauma that is associated with [human trafficking], you separate yourself from it. You even bury it to such a degree that it's like another life, another lifestyle. And when I said, 'I am one of them,' I just began to weep," said Gant-Watson.
As a teenager, she said, she moved from California to Cleveland and met a man old enough to be her father She was vulnerable, and he knew how to sweet-talk her.
What she thought was romance soon turned violent and he forced her to commit fraud in several states. Those crimes landed her in prison for two years when she was 21.
"I look back and I say, 'Well, how can I be so stupid.' But it's really not being stupid. It's being vulnerable. And when you lack the self-love and the covering of family a lot of times, you can find yourself in situations, especially being young, that you don't know about."
After prison, Gant-Watson returned to Cleveland, rebuilt her life and now helps others rebuild theirs.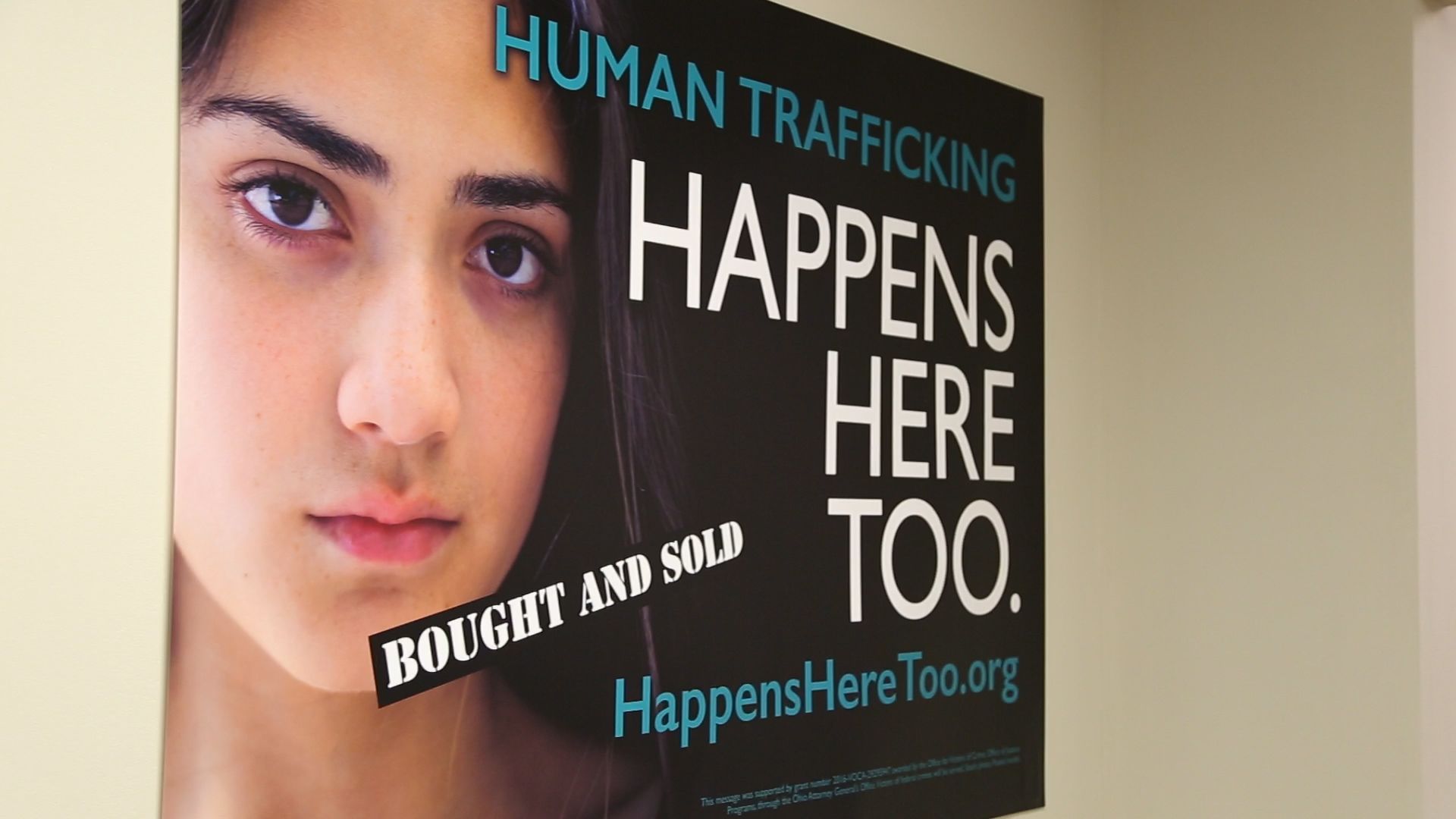 Ending Human Trafficking
Since 2007, the nonprofit Collaborative to End Human Trafficking has worked to educate people about the warning signs of this often under-the-radar crime.
Karen Walsh, the Collaborative's president and CEO, says everyone should be on the lookout for behavior that isn't quite right. 
"It's a crime that's hidden in plain sight."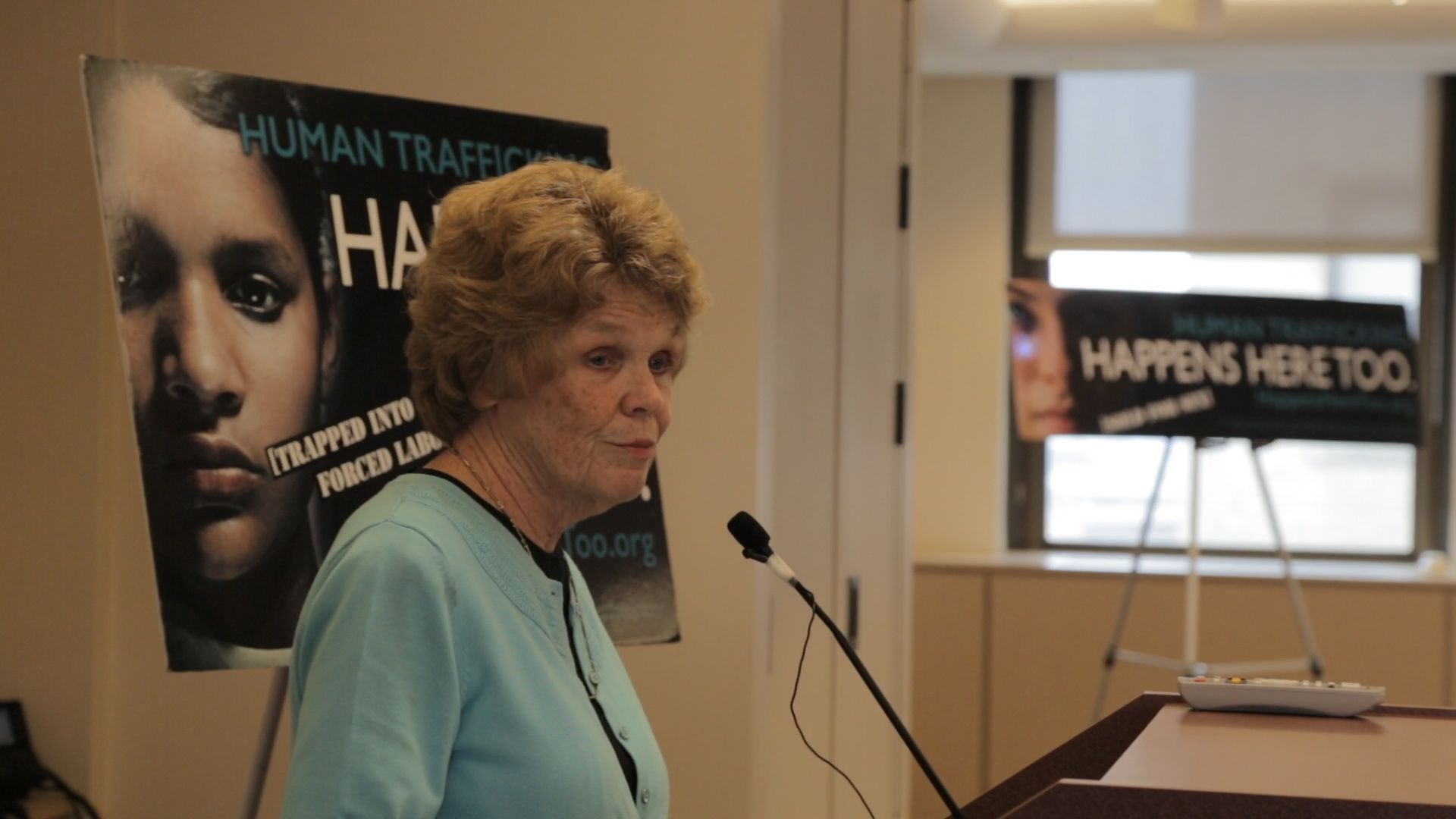 The Collaborative holds quarterly meetings for a partnership called Greater Cleveland's Coordinated Response to Human Trafficking. It's more than 40 participating organizations include representatives from the hotel and restaurant industries, law enforcement, health care and the courts.
Walsh wants everyone to understand that this crime is not the fault of victims who are lured into sex work.
"I think in the early years, people would often blame the victim," she said. "They'd assume that since she's involved or he is involved in criminal activity, they are the criminals. They're doing things that are against the law. Many people would blame that individual and say she knows exactly what she's doing and she's the criminal without looking to, who's the pimp? Who's the trafficker? And who's the individual who's purchasing her for commercial sex?"
Beyond understanding the context, Walsh wants people to be on the lookout for red flags.
For instance, she says, "How does it appear in a hotel setting? How does a front desk clerk know that when someone comes into their hotel with maybe some minor children at two o'clock in the morning and wants to pay cash and have a room by the door. But they have no luggage. That should all raise red flags."